Spreading the wealth: Business professionals share how to capitalize on early career years
Four panelists visited the Somerset building Thursday to discuss how to advance and maximize the early stages of a career when it comes to networking, advocating for yourself in the workplace and, of course, dealing with difficult bosses.
The panel, titled "Hit The Ground Running: How to Maximize Your Young Professional Years" featured panelists Casey Baines, Suffolk alum Ryan Pantaleo, Jaclyn Youngblood and Amy Mahler.
Pantaleo, a 2015 Suffolk graduate who earned his degree in finance, said during the panel that advocating for oneself is crucial at the early stages of a career. Although many expect that their career services through their university or a current manager or boss will advocate for them in the workplace, one of the best ways to get ahead is to not rely on others. He also said that in the early stages of a career, making sure that any given job is a stepping stone towards something else is important.
Pantaleo invests in residential real estate and is an account manager at a branch of Google located in Michigan.
"I got a lot of great advice at Suffolk and some of the best advice I received was as long as you're intentional in the next step you take, if it's moving you toward your end goal, then pursue it,"said Pantaleo. "Don't just listen to what your best friend thinks or what your parents think if it's not moving you toward your end goal. I've tried to be highly strategic in every- thing I've done."
The panelists also recommended that being embedded in office culture is crucial to building relationships in the work- place, which can help in the long run. By showing up to work parties, events and functions, younger people can become accustomed to the company's culture, which will make it easier to form professional relationships.
They also said that networking, and keeping a list of people you meet and reaching out to
them from time to time, is important and has the potential to lead to future job opportunities.
"Just showing up is such a huge part of the game," Youngblood said.
Youngblood, who currently works as the chief of staff at New Urban Mechanics, also said during the panel that knowing and understanding managers is important to adjusting as a young person in the workforce, especially when the management is bad.
Mahler, the director of the millennial outreach group SPARK Boston, said that although younger people sometimes have to deal with managers that ignore younger professionals, bad management
should not define a person's career. Instead, younger people should focus on "building a game plan that you get to play by, not your managers."
The panelists all agreed that the phenomenon known as "burnout" can be disastrous in the workplace at any age, not just in the early stages of a career. There is a stigma among many young people and any employee that they have to put in long, grueling and hard hours to get noticed or promoted.
Youngblood said that younger people are generally more inclined to burn themselves out if they have a coworker who is putting in long hours and constantly getting promoted because they're
likely to put in long hours too, even when they don't need to.
"What that tends to do to people younger in their career is give them the sense that 'this is the only way to be successful,' Youngblood said. "You can always find more work to do and there's always a reason to stay later."
Youngblood also recommended for young professionals to break down work to its most essential parts when on a tight deadline, as well as have conversations with employers about how to be rewarded for any excruciatingly tiring and long hours that may have been put in.
Pantaleo also said that "just saying no" is another way to avoid taking on too much work. He said that in the entrepreneurship world, there's an ideology of "grind, grind, grind, [and] if you're not grinding, you're not trying. You're falling behind," which can be self-destructive.
"That can be a dangerous space to play in if you don't make time to make new friends, meet new people," Pantaleo said. "That is a toxic environment, so I think that there has to be a balance of working hard but also being selfish and doing things you actually enjoy doing, not because other people want you to do it."
The event was put together by Laurie Levesque and Jonathan Ahern of the Sawyer Business School. Levesque is an associate professor of management and entrepreneurship and Ahern is the associate director of several masters programs.
Philip Butler, a Suffolk student studying computer science graduating this year, said that hearing the advice from working professionals helped ease his mind as he looks to graduate.
"They gave some reassuring advice about taking the leap of faith and discussing handling burnout and really how to properly network and advocate for yourself," Butler said. "A lot of the stuff I've definitely heard before, but it was definitely a nice reminder."
Leave a Comment
About the Contributor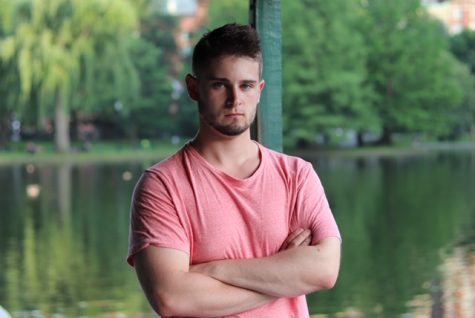 Ryan Arel, Former Senior Staff
Vermont native Ryan Arel is a former Arts Editor and former Opinion Editor for The Suffolk Journal. A print journalism major and economics minor, Ryan aspires to become a versatile writer who can cover any story of any topic that is worth telling.

Passionate about sports, photography, and history, Ryan also hopes to write and research in a way that makes complex issues easier for readers, and himself, to understand.

After leaving Suffolk, he hopes to work in the media field and stay in Boston, but he does not duck away at the idea of maybe traveling someday for work. When he isn't in the office, he can be found scream-typing homework assignments and stories, at the gym, watching "The Office" reruns or The Red Sox, his favorite sports team.

Follow Ryan on Twitter @ryanarel.