Democracy vs. Drama, withstanding the tests of time
PREVIEW: Suffolk University's "One State Two State, Red State Blue State" aims to portray the possible future of a split United States of America.
Are we too divided on our political views for democracy to survive?
In the musical "One State, Two State," written and directed by Theatre professor Wesley Savick, the characters will wrestle with this question in a musical that tries to depict where American society stands politically for the time being. Given the current political climate of the United States, the play will focus on whether or not Americans prefer drama over democracy when it comes to their personal politics.
"Drama is based on conflict, two sides that can't reconcile," said Savick in a recent interview with The Suffolk Journal. "Democracy is an agreement to try to find compromises or a way through it. It feels like we're preferring drama right now, where the other side has to be evil or the other side has to be wrong. And once we get to that point, we're living in a society where drama is winning, and democracy is losing."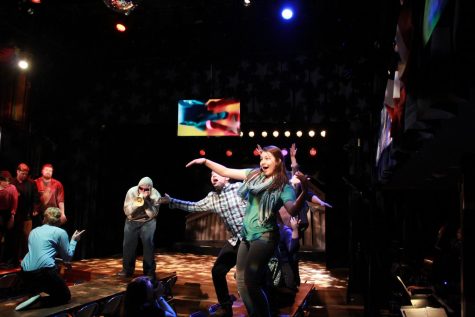 The musical, which took about a year to produce according to Savick, is inspired by the book "Strangers in Their Own Land: Anger and Mourning on the American Right," by Arlie Hochschild which explores the gap between liberal and conservative ideologies following the 2016 election.
According to Savick, the musical had its first reading at Modern Theater on June 10, 2016, and was invited to participate for a workshop production by Fairfield University in December of last year.
"
It feels like we're preferring drama right now, where the other side has to be evil or the other side has to be wrong. And once we get to that point, we're living in a society where drama is winning, and democracy is losing."
— Prof. Wes Savick
Savick, who witnessed the polarizing viewpoints that became apparent on either side of the political spectrum following the 2016 election, decided to write the play as a way of representing the flaws in the way politics have been discussed and how it differs from what democracy promises. Taking a modern approach, Savick is interested in reflecting through the musical where society stands today.
"Theatre also has a tradition of trying to express and reflect where a society is at that very moment, and that's always the theatre that's interested me," said Savick. "I'm always interested in the kind of theater that is attempting to tell us stories that maybe would be important for us to hear at any given moment of time."
A unique form of auditioning, Savick decided who would make the cast based on an audition process where students would have to argue for why they voted for the candidate that they didn't actually vote for.
"I usually don't like students leading monologues or scenes because I don't really get so much information from that," said Savick. "The exercise was to put an actor in the position of imagining, believably, a point of view which was not theirs."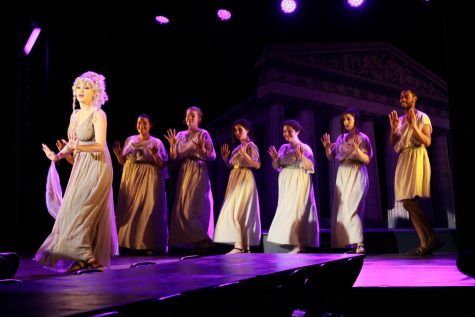 Senior sociology and theater double major Olivia Lowe said the cast, despite its rigorous rehearsal schedule, has been performing and coming together as a cast without difficulty, even when the musical politics. Lowe will be playing "Red Betty," one of the lead roles in the production.
"The show's about people who don't get along at all," said Lowe. "But the roles do not carry over at all. Everyone is friendly."
Like Savick, Lowe hopes the audience takes away from the show will be the ability to empathize with those who align towards the opposite political party, whether it is liberal or conservative.
"We want the audience to walk away with, hopefully, a new understanding of why people feel the way they feel political even if you aren't inclined to agree with them," said Lowe. "[And to] be able to understand it, even if you think they're wrong."
Contributors to the musical's production are Scott Nicholas, an adjunct to the theater department, Brian Bernhard, an alumnus of Suffolk who studied theater who also contributed to the musical composition of the show, and associate director Ryan Began who is also a Suffolk alumnus.
The show will run April 5-8. Tickets can be found via ModernTheatre.com.
Leave a Comment
About the Contributor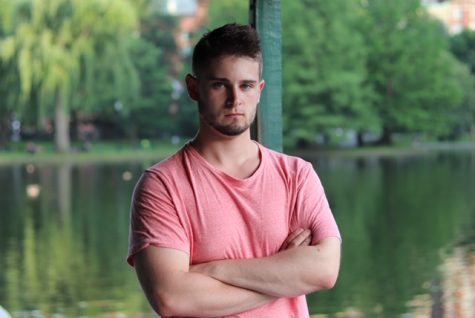 Ryan Arel, Former Senior Staff
Vermont native Ryan Arel is a former Arts Editor and former Opinion Editor for The Suffolk Journal. A print journalism major and economics minor, Ryan aspires to become a versatile writer who can cover any story of any topic that is worth telling.

Passionate about sports, photography, and history, Ryan also hopes to write and research in a way that makes complex issues easier for readers, and himself, to understand.

After leaving Suffolk, he hopes to work in the media field and stay in Boston, but he does not duck away at the idea of maybe traveling someday for work. When he isn't in the office, he can be found scream-typing homework assignments and stories, at the gym, watching "The Office" reruns or The Red Sox, his favorite sports team.

Follow Ryan on Twitter @ryanarel.