Ramifications reverberate across Boston
The Ramifications, one of two a cappella groups at Suffolk University, perform further than the borders of campus. The group has performed at renowned venues around Boston, including TD Garden, where they sang the national anthem for the Boston Celtics, the Hatch Shell at the Esplanade, the Faneuil Hall Annual A Cappella Competition and on Valentine's Day on Fox 25 News, according to Suffolk's website.
Formed in the spring of 2001 as the first a cappella group on campus, the co-ed group has been known to sing across an array of genres, which has included "pop and rock to R&B and soul," according to Suffolk's website; all without instrumental assistance.
"It has been around for 10 [plus] years and bursted right into the a cappella scene as soon as it could," said junior theatre major and Ramifications President Kane Harper. "Several CD's were made, competitions won and [the group] rapidly became a proud Suffolk University name."
The group is far from being without accolades; in February of 2011, the Ramifications placed No. 2 at the International Championship of Collegiate A Cappella (ICCA) and were awarded Best Choreography and Outstanding Vocal Percussion, according to the group's Facebook page. They went on to compete at the ICCA again in 2012 and 2013 at Berklee College of Music and MIT. Then placed fourth in 2017 at Berklee, according to Harper.
To become a part of the group, students must go through a rigorous process; first, students must sign up for a live audition. Newcomers must prepare a song of their choice for the first round and do a pitch match to determine if they can hit a certain vocal range, according to freshman Darby Sabin, who was accepted into the group this year.
"It's very nerve-wracking," said Sabin. "It's a very selective group."
Following the first round of auditions, callbacks are determined by all current members of the group. Those invited back learn a song presented by the group, and the potential members rehearse a song with all members present to see how the new voice blends. Then, the final cuts are made.
"They all cheered and celebrated when they told me I got in," said Sabin. "It instantly felt like family."
For the semester, the group plans to hold performances on Dec. 2 for the Boston Winter A Cappella Festival, as well as the annual Performing Arts Office (PAO) Winter Showcase on Dec. 7, according to junior business major and Ramifications Business Manager Kristy Fitzpatrick.
The group is currently looking for a new public relations director and student musical director, following junior Jenna Locke's acceptance into the Disney College Program where she will be a character performer at Walt Disney World in Orlando come February.
Locke is not alone in the group of students who have had opportunities by being a part of the Ramifications.
"Many of our group members and past group members have gotten fantastic opportunities with their involvement in the Rams," said Harper. "Some [of our alumni] have flown across the country to pursue major label industries."
Locke described this year to be a rebuilding year due to only a few returning members. The group has also sought outside help from PAO-hired Music Director, Anna Morsillo, according to Locke.
Though the group is full of new faces, they are confident they will measure up on stage.
For listeners who cannot make the group's upcoming shows, they can also be heard outside of their conventional live setting; they currently have two albums titled Voices in the Attic (2007) and If Maniacs Riot (2010), which can be found at the Suffolk bookstore.
Leave a Comment
About the Contributor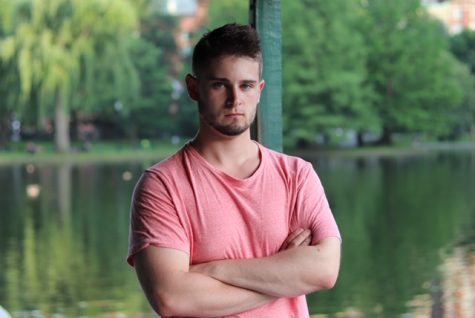 Ryan Arel, Former Senior Staff
Vermont native Ryan Arel is a former Arts Editor and former Opinion Editor for The Suffolk Journal. A print journalism major and economics minor, Ryan aspires to become a versatile writer who can cover any story of any topic that is worth telling.

Passionate about sports, photography, and history, Ryan also hopes to write and research in a way that makes complex issues easier for readers, and himself, to understand.

After leaving Suffolk, he hopes to work in the media field and stay in Boston, but he does not duck away at the idea of maybe traveling someday for work. When he isn't in the office, he can be found scream-typing homework assignments and stories, at the gym, watching "The Office" reruns or The Red Sox, his favorite sports team.

Follow Ryan on Twitter @ryanarel.