Fall Showcase
Suffolk students shine in showcase '17
With the Sullivan Studio Theater acting as a display case for Suffolk theatre students to prove their worthiness of performance, the latest installment of Fall Showcase was nothing short of spectacular.
This year, which featured work by Suffolk University's Xenia Kamalova, Erica Wisor and Ali Maynard, the 85-minute show covered a broad range of topics. From the historic and mind-numbing art heist at the Isabella Stewart Gardner Museum to a satirical approach of discussing a potential precursor to the development of hell. The students featured in this year's Fall Showcase outdid themselves in a passionate and dedicated display of talent.
The night began with "Heist," by senior theater major Erica Wisor with a  critical approach to the Whodunit case of stolen artwork from the Isabella Stewart Gardner museum. Comprised of just nine students, the play followed federal agent Harold, played by sophomore theatre major Ryan Stack, and his involvement with the local police officers working not-so-diligently to solve the seemingly cold case.
In an interesting juxtaposition of past and present, Director Wisor did an excellent job to portray the urgency shown by Harold and Madame Gardner herself, played by junior theatre major Helen Brind'Amour. In a particularly dramatic scene which showed Gardner placing the future of her life's work into her husbands hands and bursting into hysterics at the thought of her collection being disturbed in any way. Wisor then showed Harold also in a fit of hysterics in his quest to bring justice to the famed collector.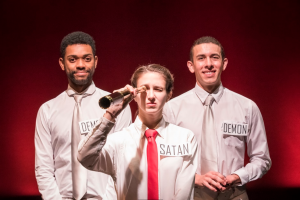 Complete with a jazz ensemble and a backdrop with empty picture frames, the cast was able to effectively portray the urgency that comes with finishing a job and being proud of your work.
Followed by a quick scene change, the next production was "Welcome to Hell," written by senior theater major Xenia Kamalova and co-directed by senior musical theater major Kane Harper. Opening with two men dressed in pristine white suits and labeled as "demons," the pair are seen administering eternal punishments to those permanently damned to what appears to be the catholic view of hell.
The pair banter about what mundane punishments the damned should serve when another man joins them onstage, dressed in all black and labeled "angel." Inquiring about how to work for Satan, the angel is astonished at the acts of the two demons, named Michael and Gabriel, and claims their punishments aren't harsh enough. When faced with Satan himself, portrayed perfectly by a stone-faced and sarcastic Julianna Fielding, the leader of hell allows the fallen angel to prove himself by creating harsher punishments and earning the name "Lucifer."
Complete with everyday acts deemed as sins by newly appointed Lucifer, he creates punishments for homosexuality, greed and the like. Only when Michael, Gabriel and Satan reveal their true identities as archangels sent from heaven and God "herself," to test Lucifer, is when the trio preserve Lucifer in his own eternal damnation in a block of ice. A hysterical approach to many heavily discussed topics today, "Welcome to Hell" was a sensational look at gender roles, social constructs and forces an almost immediate inward reflection.
In the third and final play, "Bigfoot," written and directed by Ali Maynard, a group of four botanists conducting research at the base of a mountain have their friendship boundaries tested when something goes bump in the night.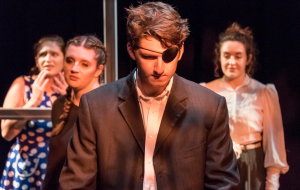 Perhaps the most physically complex play in terms of set design, the play itself was the most simple in terms of cast numbers. A critical approach to the flight or fight notion when faced with fear, the four-person cast showed how seemingly strong relational ties are put to the test when lives are endangered. The talent displayed by the four cast members, sophomore theatre major Mickey Rodgers, junior theatre major Alice Byrne, sophomore theatre majors Nicholas Cenci and Ian Hussey, was beyond compare.
Pushed to the brink of their own personal talents with long-winded monologues and by transforming into their respective characters, the audience was drawn into the hysterics and dramatics emitted by the cast members, truly making the idea of "Bigfoot," believable. The final production of the evening was well cast and acted as the pinnacle of craft and performance, and was the ideal way to end an evening filled with artistic excellence.
Leave a Comment
About the Contributor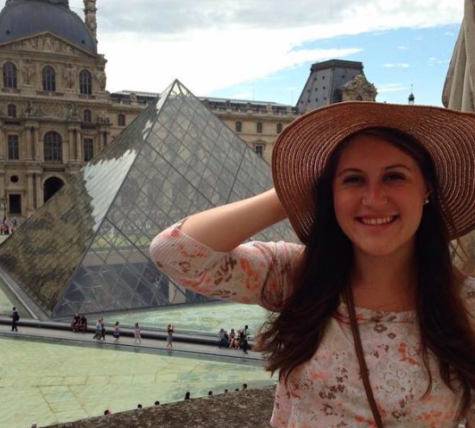 Felicity Otterbein, Past Arts Editor
As a member of the Best Friends of Friendly's Ice Cream Club, Felicity enjoys not taking life too seriously. She appreciates all walks of life and accepts all those who are willing to share a smile. 
As the Arts Editor, she enjoys uncovering new music and discovering the hidden gems of the Boston and Suffolk arts communities.  She enjoys supporting both her friends and university by attending and reviewing Suffolk-based art by featuring the array of talent that can be found on campus.
She prides herself on her uncanny ability to document every waking moment of her dog, Shadow, and can most always be found with an iced coffee in her hand. If you're looking for her, she's usually at her desk inside of The Journal office watching SNL reruns or galavanting through the Isabella Stewart Gardner Museum.