Brady revisits childhood home team, Patriots defeat San Francisco 49ers 30-17
The New England Patriots defeated the San Francisco 49ers 30-17 Sunday afternoon at Levi's Stadium.
Patriots Quarterback, Tom Brady, grew up as a 49ers fan himself and seemed full of nostalgia as he stood on the field in his tan trench coat before the game started Sunday. Brady grew up in San Manteo and was even in the crowd to watch the 49ers defeat the Dallas Cowboys in the 1982 National Football Conference title game.
"I've never had a chance to play in front of my family like this," said Brady to the Sentinel & Enterprise. "I've never had a chance to play in front of my friends. Growing up in the Bay Area and loving football, it was a great time for me to grow up and see the success of the 49ers and the great quarterbacks, Steve [Young] and Joe [Montana] and what they were able to do."
Today, Brady and Montana's statistics are constantly compared in the ongoing debate of who is the "better" quarterback.
New England improved their record to 8-2 Sunday afternoon and are currently in first place in the American Football Conference. Running back, Dion Lewis made his first start of the season while tight end Rob Gronkowski was listed as inactive after an injury from the Seattle game in the previous week. In the first quarter of play, the Patriots claimed the first touchdown with Brady making a four-yard touchdown pass to wide receiver Julian Edelman. Edelman, also like Brady, grew up a 49ers fan in California.
"I watched that team for a long time. I still root for them just not when they play us," said Edelman to all22.com.
Kicker, Stephen Gostkowski missed the first extra point as he continues to struggle for the first time in his career this season. Per cbc.com, he was not the only one as National Football League set a record for 12 failed extra point attempts in a day. The 49ers eventually got on the board with a 33-yard field goal making it a 6-3 game.
In the second quarter of play Brady threw to running back James White for a nine-yard touchdown pass. At 4:56 in the game New England gave up an 18-yard touchdown pass to San Francisco's tight end Vance McDonald making it a close 13-10 game. Neither team was successful at scoring in the third period as they both appeared worn out. However, the Patriots came alive in the fourth quarter as Brady made a five-yard touchdown pass to wide receiver Danny Amendola. At 10:06 in the quarter Brady threw another pass to rookie and wide receiver Malcolm Mitchell making the game 27-10.
"I was just trying to get open," Mitchell said to bostonherald.com. "Tom, being who he is, found me."
This was Mitchell's first career touchdown. Four minutes later in play Gostkowski kicked a 38-yard field goal to make it a 30-10 game. In a last attempt at scoring 49ers running back Shaun Draughn scored the team's last touchdown leaving the game with a final score of 30-17.
Brady ended the day with four touchdowns and tied former quarterback Bret Farve for second most career wins. New England had a season high five sacks on 49ers quarterback Colin Kaepernick and allowed a total of 299 total yards. This was a slight improvement for their defense after a tough loss to the Seattle Seahawks 31-24 last Sunday. Running back LeGarrette Blount had his fourth 100-yard game of the season. Wide receiver and special teams captain, Matthew Slater left the game with a foot injury, but no updates have been issued on his current status as of Monday night.
The Patriots will travel to MetLife Stadium to face the New York Jets on Nov. 27 at 4:25 p.m.
Leave a Comment
About the Contributor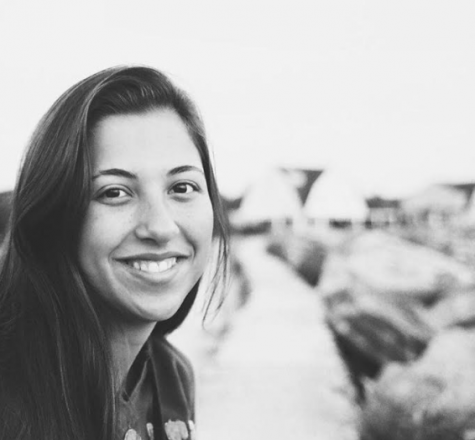 Hannah Arroyo, Sports Editor | she/her
Hannah Arroyo is a junior, the Sports Editor, and a Broadcast Journalism major who hopes to work in sports media someday. She passionately follows New England sports and can often be found exploring new spots in Boston. She enjoys going to Fenway Park, searching antique stores and pranking her friends. By writing for The Journal, she hopes to improve her journalism skills and eventually explore writing stories that differ from sports.