W!CKED calls on local dance troupes to beat rare disease
From billiards to business, Suffolk University's student run organizations stand out not only for their exemplary ability to get students involved on-campus, but also for their outstanding philanthropic efforts. Allocating 60 percent of proceeds, Suffolk's W!CKED hip-hop dance crew teamed up with nearby colleges and dance companies to beat a rare genetic disease, Sanfilippo Syndrome.
W!CKED, a team that integrates several different styles of dance into their performance, showcased their genuine passion to help others Friday at their second annual benefit competition, "Boston's Best Dance Crew." Utilizing their love for dance, the energetic group elicited the help of seven nearby dance troupes in hopes to raise awareness and funds to help find a cure for the disease.
The competitors and contributors were Bentley University's Craze, Brandeis University's Kaos Kids, Bridgewater State University's Kinetic Edge, MIT's Mocha Moves, Suffolk University's Step Team, and Wheelock College's Xclusive. Special performances by Beat ConnXtionz Dance Company, CONcept ARTists, InTheMakdin,  Phunk Phenomenon, and Phunk's junior dance team, Lil' Phunk.
Trend N' Motion, a performance group dedicated to preserving dance in urban areas, brought home a victory despite their small group of only four members. Their dance was difficult to top, as they coupled their rhythmic movements with athletic acrobatics highlighted by the backflip of one of the members executed to close their performance.
W!CKED hosted the event and invited judges, Adlai Grayson, a dancer and choreographer based in Boston, Courtney Halas, founder of W!CKED in 2008, Kendra Eddy, captain of W!CKED for three years until she graduated in 2012, and Brian Lim, known as "Brian Pistols," who was a member of W!CKED when he was at Suffolk. These judges critiqued the music, theme, execution and overall presentation of each team in similar fashion to MTV's hit reality dance competition show, "America's Best Dance Crew."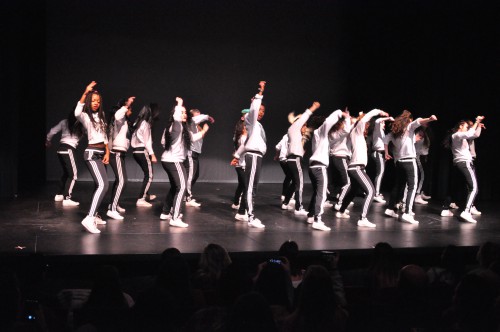 "Our theme, 'Boston's Best Dance Crew' was a play off of a dance competition TV show called 'America's Best Dance Crew,' said Gillian Haley, a senior public relations major and secretary for W!CKED. "We thought the challenges were a great way to add some audience interaction, while they were looking for the step in the choreography, and that it would just add an extra special element to the experience for the groups."
Partnering with Phunk Phenomenon Dance Complex owners Reia and Rick O'Connor's organization, "Hip Hop for Hope," The C. Walsh Theatre's stage was a platform for the O'Connors to express their passion and gratitude for the outstanding efforts toward aiding those with Sanfilippo Syndrome including their son, Jared. They hope that the money raised through this foundation can help pay for experimental treatments for Jared, spread the word about this disease and to one day find a cure.
"We decided to partner with Hip Hop for Hope because we have dealt with this charity in other shows and competitions that we have participated in and believed that it would be a great cause to support," said Haley.
"It is a cause that is really special to the local hip hop dance community."
All groups had their own themes for their dances, from Spongebob-themed attire to stereotypically nerdy ones. Each team showcased their creativity and passion through their dance. It was a fun event enjoyed by spectators and competitors while remembering that their talent can help so many people lead a better life.
Leave a Comment