Suffolk offers special housing rate for commuters in need of lodging
Suffolk University, in a push to accommodate commuter students whose schedules have been disrupted by periods of harsh winter weather and delayed public transportation, has started an initiative to allow off-campus students the opportunity to live in the dorms for two different five-night periods at a cost $250 each.
Some students have said they are appreciative of the program, since it allows them the option to live on campus and see what the dorms have to offer.
"I think it's nice. It gives us an opportunity to live on campus," said Natalia Morgan, a freshman psychology major. "But I think it's ridiculous to pay $250 for five nights."
Check-in for the first period began Feb. 22, and was  announced to students via email. Students cannot sign up on a per-day basis.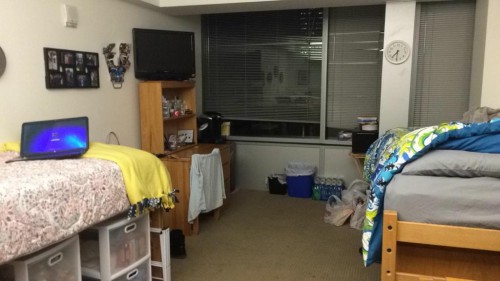 Some students have been apprehensive about the program, citing that the price is too much to pay just to get their classes. Others said there is the inconvenience of having to uproot from their homes or apartments and move on campus.
"A lot of people can't afford that rate so it feels like the school is favoring the students who can afford the commodity," said Alex Zuluaga, a sophomore government and Spanish major. "It seems more of a nuisance to move your life for one week than to commute in the morning. It's just a little unfeasible in my mind."
Richard Wyche agrees. The senior and government major said that it was all a nice effort by the university, but that is was unlikely that a majority of students has $500 dollars to pay for the two five-night periods.
Dean Nancy Stoll said there are currently 12 students signed up for the first period of the program, and that five or six students have tentatively signed up for the next period.
Many off-campus students chose to live elsewhere because they like the freedom that living in their own place has to offer.
"To even consider uprooting myself to come stay in the dorms I would need at least a minimum stay of two weeks," said Theresa Stevens, a junior international relations major. "Regardless, I think it was a nice gesture of Suffolk to offer that to commuters, but an expensive gesture I don't think many students would bother taking advantage of."
Though students thought the cost for the five-night stay was too high, Stoll said considerable thought was put into calculating the price.
"We considered different options but we had to think about the cost for the institution. We looked at how much it costs for students who are in housing on break periods when the university is closed and we considered it as a benchmark," said Stoll. "We needed [the days] to be a certain number of days to be efficient and effective to do it and that also made sense for the students."
Another option for students is a discounted price for rooms in the Omni Parker House Hotel, according to the email. The hotel offers students the chance to reserve a traditional hotel room with a full-size bed and other amenities, with Internet access. Reservations for the hotel rooms are available on Sunday through Thursday, and will be based on the availability of the rooms. The discounted rate will be provided until March 27, excluding March 5, 15, and 16, the email said.
As for Sodexo employees who are housed locally during bad weather conditions, accommodations are organized by Sodexo, rather than the university, according to Stoll.
Leave a Comment