Suffolk Republicans meet with head of Koch Free Zone
Suffolk University Republicans held a meeting with Kalin Jordan, a Suffolk alumna and head of the campaign pushing to remove all funding from the Koch brothers out of the university, to openly discuss their differing opinions on the issue.
During the short meeting, Jordan presented her campaign to the Republicans, and discussed the points she thought would be most significant to a group who disagrees with the campaign.
Jordan, who spoke for the majority of the 20-minute meeting, said "the Koch Foundation has given over $750,000 to Suffolk since 2008, and all that money has gone to the Beacon Hill Institute."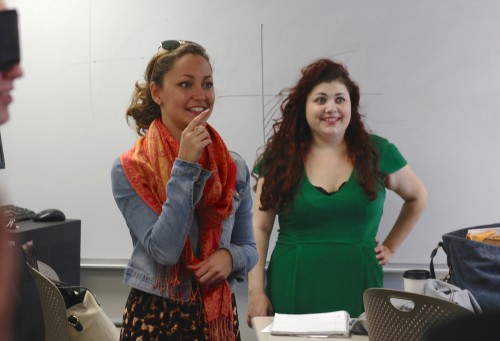 Jordan said BHI publishes policy papers that have helped the Koch brothers financially.
"It helped their bottom line," according to the alumna.
"We disagree with Kalin and the Koch Free Zone organization on many levels," Paul McCormick, president of the Republicans said in a statement released shortly after the meeting. "Suffolk is a private institution and can accept or deny any donation that it sees fit. We stand with the Beacon Hill Institute and the administration of this great university on this matter."
Jordan, who graduated in 2009 with a degree in political science, worked on numerous campaigns in her early career before coming across information on the Koch Foundation's donations to Suffolk. Her meeting with the Republicans follows a meeting with the Suffolk Environmental Club last month.
David Tuerck, the director of BHI, who was not present at the meeting, said "Kalin Jordan's meeting with the GOP is not surprising.  She clearly will meet with anyone or any entity, except the Beacon Hill Institute, to conduct her campaign aimed at vilifying the Institute and at promoting herself with her radical Left clients."
Jordan told the Republicans "as an organization who cares about the university, I think there's a lot to be said of the finances … we want to know what money is coming in, where money is being spent regardless of your political affiliation."
McCormick, who spoke on behalf of of his group, said they "respect private institutions … We trust how the president and the board of directors and board of trustees decide to divvy up the donations they get … I feel differently about public universities and how they handle their donations."
Jordan achieved one of her petition's goals, transparency within the university, when the university released a document identifying grants given to the school and how they were used. However, Jordan found what she described as a discrepancy between the amount Suffolk said it received from the Koch Foundation compared to what the foundation reported in its official tax document.
"Suffolk has the opportunity to pave the way for transparency for other private organizations. Legally there's no grounds for me to say we have to see this," Jordan said.
In regards to transparency, Tuerck said, "Ms. Jordan packages her campaign around the idea of 'transparency.'  Had I been at the meeting, I would have asked her to be transparent about her own funding.  Where is she getting the funds to conduct her anti-Koch, anti-BHI campaign here?"
Student Demi Lamonica disagreed with Jordan on the topic of transparency.
"I think transparency is important, but at the same time, Suffolk is a private institution that doesn't necessarily need to do these things," Lamonica said, adding that receiving donations from the Koch Foundation is not a pressing issue.
When asked if Jordan has made any contact with BHI in light of the campaign's recent alliance with the Suffolk Environmental Club, she said it is something she has considered.
"Our campaign is focused on getting transparency really from administration," said Jordan, noting that administration is who can get information from BHI concerning research.
According to Jordan, she has reached out to President Norman Smith three times for a meeting to discuss alleged discrepancies, and has not yet received a response.
Leave a Comment