Long after the everyday inhabitants of the Donahue café had gone, the Performing Arts Office transformed the modest cafeteria space into a makeshift theater, complete with lights, sound booth and microphones where the Musicians' Network hosted their first Open Mic Night of the semester. Hushed conversations filled the room as several students tuned their guitars, filling the atmosphere with anticipation.
The set list featured 11 acts in total, some acts had signed up only hours before the show, to perform a vast array of talent for the Suffolk community. From original rap and poetry, to acoustic covers of Taylor Swift, the night featured a variety of acts that appealed to many different interests and musical tastes.
Thomas Burke and Kevin DeCost, two members of Suffolk's improv group Seriously Bent, hosted the show, incorporating their knack for comedy into each of the acts, making puns of the performers names and occasionally poking fun at themselves.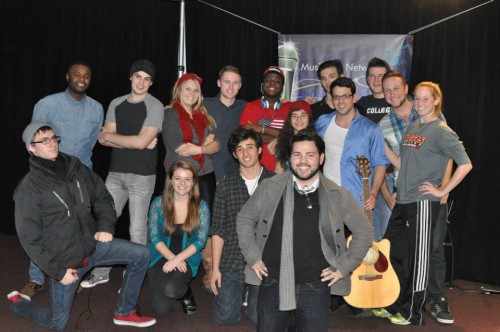 Along with a wide variety of acts, the show also featured performers from across the Suffolk community. From underclassman, to international students, the show encompassed many different aspects of the Suffolk community.
One performer, Andrey Kozlov, is originally from Russia, and is studying global business and marketing. Along with being a photographer and actor, Kozlov is also a skilled guitar player, and performed popular rock songs, "Creep" and, "Personal Jesus."
For many of the students who performed, this was not their first time taking the stage at Suffolk. Freshman Antonio Roulet brought components of the Jazz Ensemble, whom he performed with during the Fall Fest production, to his set. Covering Michael Bublé and Lorenz Hart, Roulet contributed a jazzy, theatrical vibe to the night.
Another freshman, Connor Milligan, is a member of the Ramifications. Performing, "Love is All" by the Tallest Man on Earth, Milligan showcased his solo talent by both singing and playing guitar.
"I want to commend you all for performing tonight," said Burke midway through the show, recognizing that it isn't always easy to perform in front of an audience, especially in such an intimate setting.
Julia Lorello, a sophomore and member of Techies Union, has teched several open mic nights and also commented on the performers saying, "I love the support the musicians give each other."
In addition to the warm reception from the audience, emcees, and Techies Union, Musician's Network President Felicia Krentzman remarked on the abundance of audience members saying it was, "the most we've had" at an open mic performance on campus since they began.
Along with running the event, Krentzman performed a duet with fellow Suffolk student Ryan Cutillo. The pair covered both Taylor Swift and the Kings of Leon as several members of the audience illuminated the room by swaying the flashlights of their iPhones back and forth.
Open Mic Night began in Fall 2013 when the Musician's Network was first formed on campus. There are two different Open Mic Nights being planned for the Spring semester.