Counseling, Health and Wellness Center merge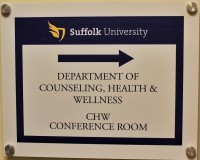 The merging of Suffolk University's Counseling and Health and Wellness Centers over the summer was inspired by director Jean Joyce-Brady's passion for health care, which connects mental health and physical well-being.
"Because the mind and body are interrelated, I needed to ask myself, 'how do you look at a wellness and health education program and make sure those points are there across the spectrum in terms of what you're offering'," Joyce-Brady said in an interview on Monday.
The director has had a long career working with university counseling centers, holding both management and administrative positions.
When Joyce-Brady first arrived, she set a plan to combine the separate health and wellness center with the counseling center. An administration and decision-making team was formed, which includes director Joyce-Brady, Medical Director Dr. Paul Heinzelmann, Assistant Director Paulette Giambalvo, Training Director Lynda Field, and Associate Director George Leehan. The outreach education program includes Giambalvo and Dr. Teresa Blevins.
The two offices merged into one, and was renamed the Counseling, Health & Wellness Center. A wall was also knocked down on the fifth floor of 73 Tremont in order to physically connect the spaces.
And with a new name came a new mission statement. The new mission statement means more to Joyce-Brady than just a phrase on the back of a pamphlet, she said. 
"This is for people to start working more as an integrated team, because we've had these two teams that have worked in a very separate kind of way. In order to really grow personally and to succeed academically, you have to take care of your wellness." The center sees itself as central to the mission of the university, to keep students moving forward in a healthy and focused way.
The next move was to combine their resources.
"The Counseling and Health and Wellness centers had been using two different medical record keeping systems, and if you're going to be an integrated system where the potential is there, you really need to be using the same record keeping system," Joyce-Brady said.
When she came to Suffolk, the counseling center converted to the same system as health services in terms of technology, Joyce-Brady said.
This merging of systems is not only beneficial for organizational purposes, but benefits the students for what is called an "integrated plan." When a student gives consent, both the medical provider and counselor are sharing the same medical records in order to give integrated care. By managing a physical disease, as well as giving behavioral techniques to manage the symptoms, a counselor and a member of the medical staff consult and develop a plan with students.
"It's like learning two different cultures," Joyce-Brady said. "It's not that one is good or bad, it's just different. It's important to learn and appreciate their differences and figure out how to integrate where you can."
Physical and mental health, "are not separate," said Joyce-Brady. "By looking at the relationship between medical conditions and psychological symptoms and the reverse, my hope is that there's a deeper understanding for the students about how important it is to see all of these relationships."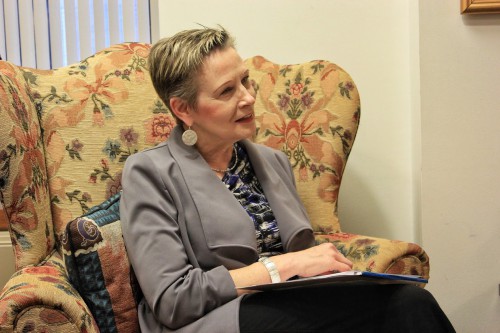 For colleges and universities, the method of integrated care is still relatively new.
The last change for the merger was to combine spaces.
"The main roadblock for us was the health clinic's hallway really goes right into the back of an office. Thinking, if we could break through there and knock down a wall, we could then have an expanded reception area," said Joyce-Brady. The wall was then knocked down.
Now with a larger reception area, there are kiosks where students sign in, whether it's for a drop in appointment or a scheduled meeting with a health physician or counselor. The information is put into a cue that is sent directly to a staff member. This process is, "a really expedient, quick and yet still private process for students because whatever you're putting there is going to the provider that you are going to see," said Joyce-Brady.
The existing support staff were consolidated and are being continually trained to understand the relation between mind and body. Suffolk University Peer Health Educators, or SUPERs, will probably take over their previous space.
The counseling center is also the American Psychology Association, or APA, training site for doctoral level graduate students who are studying to be counselors.
"I think the challenge of when you do this is that you can't fall down in providing day-to-day services," said Joyce-Brady. For this reason, the renovations didn't happen until the summer. "With any change that you create, some things just immediately work well, and some things need to be tweaked. Ultimately, we want to be the best we can be for students, if we're not making a difference for them, then we need to change."
The Counseling, Health and Wellness Center has expanded its counseling urgent care walk-in hours and medical service hours, and is located on the fifth floor of 73 Tremont.
Leave a Comment