Ugandan anti-gay bill fuels protest
Article by: Derek Anderson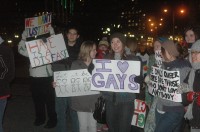 A proposed anti-homosexual bill in Uganda stirred up LGBT activists in Boston enough to take action in a protest last Thursday night in front of the John F. Kennedy Federal Building. The rally, organized by Anti-Violence Project of Massachusetts and Join the Impact MA, protested an American fundamentalist's homophobic teachings in Africa. A right-wing group called "The Family" was accused by the protestors to be linked to the draft of the anti-gay bill in Uganda.
The bill in Uganda threatens gays by convicting them for a minimum of a life sentence in prison. People who engage in homosexual acts more than once, have sex with a minor, or test positive for HIV may be executed. Even people who know about homosexual activities but do not report them can risk being imprisoned for three years. According to a CNN article, this "bill forbids the promotion of homosexuality, which, in effect, bans organizations working in HIV and AIDS prevention."
"I think it's awful and I think it's an outpouring of frustration on fundamentalism as part of the US that they're starting to feed into other countries," said Matthew Dimick, a graduate student at Boston University. "I think it's a misappropriation of Christianity. It's a misappropriation of the mission effort in Africa and turning it into something that's terrible and evil. Its genocide."
Dimick, along with other protestors, gathered to hear speakers from different organizations speak out about the anti-homosexual bill in Uganda. Rev. Dr. Kapya Kaoma, who is also a Project Director at Political Research Associates, and an Anglican priest from Zambia, spoke to the crowd about the American groups that are aiding the bill in Uganda and asked people to stand up to injustice.
"We are here drinking coffee and having breakfast when our brothers and sisters are faced with death," said Kaoma. "Friends, the time has come to stand up."
Other speakers took their places speaking to the protestors including Kate Leslie, Co-Chair of Join the Impact MA.
"I think it's really critical for people here in the United States to speak out against this because it's really not about what's happening abroad, it's really about how the United States and right wing evangelical groups based in America are supported and promoting hate abroad," said Leslie. "Therefore, I think it's absolutely critical that we don't stay silent. Just because it's not happening in our own backyard does not mean we should not get involved."
Even students from Brookline High School came to show their support, bringing signs and cheering for speeches.
"Our school is doing a writing campaign where we are writing letters to the UN to put pressure on them to fix this," said sophomore Christopher Jansky.
The anti-homosexual draft bill in Uganda is in the committee stage with Ugandan Parliament as many actively search for a way to stop the bill from passing.
"I think, in any situation with something so despicable and so awful, you have to shine a light on it," said Dimick. "You bring attention to it. Already the attention drawn to it is creating change and creating awareness. [We need to be] giving people that information and giving people the knowledge of what's happening and making people aware in our country that this isn't acceptable. [We need to] hold the UN accountable for what they're supposed to be standing for."
The Human Rights Watch has been watching this bill since it was drafted in early October, 2009. With the draft bill still standing, protestors, activists and organizations continue to fight its discrimination and violation of human rights.
"This draft bill is clearly an attempt to divide and weaken civil society by striking at one of its most marginalized groups," said Scott Long, director of the LGBT Rights Program at Human Rights Watch. "The government may be starting here, but who will be next?"
Leave a Comment