Chances are, out of all of the textbooks you have bought for your general, core, and minor classes, you have at least one lying around occupying closet space because it couldn't be sold back to the Suffolk University Bookstore. Sigma Alpha Epsilon (SAE), Suffolk University's only fraternity, is currently developing a new textbook lending program for students that targets this problem.
SAE's mission is to promote the standards of friendship, scholarship and service for its members based upon the ideals set forth by its founders. Its relationship with S.O.U.L.S., Suffolk's own community service organization, has made way for its participation in many community-based projects. Some of the organizations it has worked with in the past include Cradles to Crayons, Boston Healthcare for the Homeless and the Greater Boston Food Bank.  In alliance with its dedication to service, SAE is currently encouraging students to donate their used textbooks to help start a library for Suffolk students of all majors and programs to use.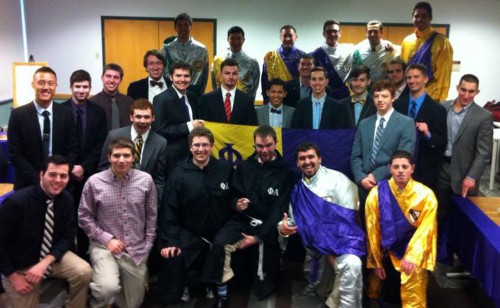 SAE will collect used textbooks from students, and will subsequently compile a list of books that are available. From here, students will apply to participate in the lending program. Decisions on who is eligible for textbooks will be merit-based.
In regards to the new program, Head of Recruitment and Head of Fundraising at SAE Josh Caldwell said, "Every semester we have a first meeting. One thing I had been toying with was starting a fraternity library. Since we are always looking for a way to help others while establishing our brand's equity on campus, we thought it'd be a great idea to expand on this idea and open it up to everyone." He also said, "If you look up the rate of inflation in book costs over time, it's insane. I think it's something like 488 percent."
A recent Huffington Post article stated that, on average, college textbooks are 812 percent higher now than they were three decades ago. The average cost of college textbooks per year is about $900, which is unaffordable for many. Another common option Suffolk students have is to study by using the textbooks that teachers request to put on reserve at Sawyer Library.
Although SAE is starting its program after the peak time for book-buying, but Caldwell said he's confident that it "still has the possibility of helping students," and is looking forward to not only helping others, but new developments in SAE overall.
While SAE is always recruiting new members, it is also looking for students that would like to be a part of the committee responsible for selecting students through a merit-based application.
Also on the SAE calendar, starting Jan. 27, is recruitment week, with several events throughout the week including a hang out with the Monster Energy Team on Thursday, Jan. 30, and poker night on Friday, Jan. 31. For more information on SAE upcoming events or how to get involved in the book lending program, check out the frat's website, www.suffolksae.org.