As they wait just a few more weeks to graduate, senior graphic design majors have hung their final show at the New England School of Art and Design (NESAD), "Designing Under the Influence" (DUI). Featuring a variety of work from the departing undergraduates, the exhibit in NESAD's main gallery intends to highlight the unique talent of each student's work and the ideas that have influenced each individual's design aesthetic. 
Mock mug shots of each senior accompany the pieces, along with each artist's personal statement on their work, to unite the show's eclectic pieces and artists. Students' works are squeezed into the main gallery on the second floor of NESAD and even spill down the hallway around the corner. Projects range from package design, to corporate identity and branding revamps, to book design, board games, postcards, and theatrical release packages.
Students chose well-known brands like Berkeley & Jensen, the name brand of the wholesale store BJ's, and Too Faced, one of Sephora's most popular make-up brands, to improve through a total redesign. By reconsidering the respective brands' images and how to appeal to its customer base, the students were able to produce convincing product packaging that could easily be mistaken for the real deal.
The BJ's redesign highlights simple colors and a classic, nostalgic-looking font and details to give the sometimes overwhelmingly large superstore a homey, "brand-that-mom-used" feel. The Too Faced redesign completely ditches the Victorian elements and pretty princess feel of the brand's current pink, gold and black packaging and instead transforms the brand into a modern, hip image. The facades of white boxes are chopped up by giant black shapes and covered with miniature triangles of bright color to catch the 21st century girl's eye.
The book design project is able to both show off the students' design talents and reveal a piece of each artist's own personality. One student chose to design a book of poems for E. E. Cummings work, employing a simple black and white color scheme and funky text layout on the jacket that perfectly compliments the free form poetry of Cummings.
The individual influences of the student are more than obvious on a shelf that showcases a book on ballet alongside a book of beer. Both artists carefully considered their topics to create fun and well-designed books that also hold a little piece of themselves. Another project that highlights individual influences on the artist is a notecard set design. Similar to the box sets of cards one could find at Papyrus, students created an array of card themes that ranges from comic book characters, to the works of legendary designer Saul Bass, to the forms of outer space.
Corporate identity projects, which focus on creating a coherent and unique image for a company's logo, business cards, letterhead, and packaging, create new brands out of thin air by making a believable and professional quality corporate look. A redesign of the Atomic Bean Café's image catapults the company into the modern era by replacing its old world rustic charm with a fresh, bold set of neon colors and a hip aesthetic.
The senior graphic design work will remain displayed at NESAD's gallery until April 14, with a reception celebration on Friday from 5 to 7 p.m.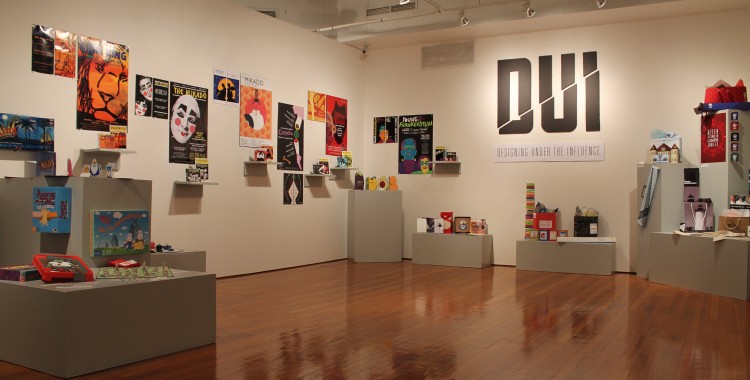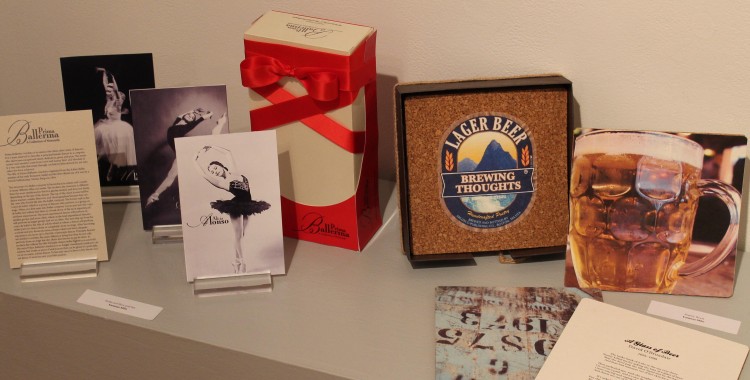 Photos by Ally Thibault