After 'Glow'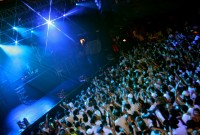 Mindless movement filled the House of Blues on Landsdowne Street Monday night when DayGlow, America's largest paint party, threw a private show.
Host Emir Duru set the standard of hype, jumping around the stage non-stop, spitting verses and encouraging hands in the air. A swarming floor was filled with students wearing florescent white and neon, decked with glow sticks, light-up fingertip gloves and blinking sunglasses.
Think booming sounds, flashing lights, steaming strobes, dancers, stilt men, confetti blasts, and balloon drops. Then there's the paint.
"I almost didn't get a ticket because I thought a paint party sounded kind of lame," said freshman Anna Martel. "Then I looked [DayGlow] up and it looked amazing."
Waves of bass and synths gave ears a trip as DJs David Solano and R3hab fused beat-driven and vocal, mainstream and underground elements of electro, house, dubstep, pop, dirty dutch, dance, and trance on the tables.
Familiar tracks from artists like LMFAO, Katy Perry, Wolfgang Gartner, Adele, Afrojack, Chuckie, and Major Lazer kept everyone dancing, but when Avicii's 'Levels,' dropped, forget it. Although it was released just the other day on Beatport, everyone seemed to know it.
The visuals synched to the sounds darted combos of urban art, graffiti, cartoons, humans, abstract designs, and color squares.
It wasn't like a rave – it was a rave. The atmosphere was similar to that of a Kaskade show.
"It was like the deadmau5 show, but more interactive," said Martel.
The crowd was teased with paint and smoke throughout the night, but it wasn't until the hour-long DayGlow countdown ended that everyone experienced the real deal. Everything went from white to rainbow within seconds. Screen visuals, paint sprays and confetti combined, every shade of every color imaginable hit the eye.
"They let everyone down from the balcony, which was awesome," said sophomore Linda Ayrapetov, who had balcony "seating" but was able to move down. "I thought it would be sprinkles of paint, but no, it was ridiculous," she said."
Freshman Mariah Ehrgott attended with every intention to get swamped in paint all while dancing to techno and dubstep.
Seniors Anthony Giarrusso and Michael Hanifan left the party completely covered, but still ecstatic. They didn't seem to be at a loss for words.
"It was a great time by far," said Hanifan, "especially the buildups and the drops."
"[DayGlow] lived up to my expectations," added Giarrusso. "I would go again."
Leave a Comment