The Suffolk University Theatre Department's spring mainstage show "Pilgrims of the Night" touches upon the feelings of isolation and hope in times of despair, all too relevant in the new "normal" we're experiencing.
On April 7-10, the student-performed production will take the Modern Theatre stage, with theatre professor Wesley Savick returning to his directorial debut, 22 years later.
Savick first directed "Pilgrims" in 1996 in Tokyo as a guest director-in-residence at DARTS Subaru Theatre, and again in 2000 shortly after he was hired at Suffolk, making this an emotional return for him. He originally planned to put on "Pilgrims" in 2020 to celebrate the 20th anniversary, but the COVID-19 pandemic put a hold on the project.
The four-night production captures the essence of isolation and rediscovering theater, each other and ourselves, said Savick.
"The fact of COVID delaying the production of this play was oddly fortuitous as this play, in particular, is the perfect play to do as we kind of crawl out of this forced hibernation," he said.
The play was written by master storyteller Len Jenkin in 1991 and is about a group of seven travelers who are stranded at a ferry terminal on a dark and stormy night. "Pilgrims" is held together by the wacky and theatrical tales told by each voyager and is a celebration of imagination amidst the chaos. 
Savick describes these stories as funny, touching and slightly disturbing as the travelers work to understand each other on a fateful night.
"They have to spend the night with each other, all these strangers, so they decided to tell each other stories," Savick said. "The heart of 'Pilgrims' are these six stories that the travelers tell and the stories are extraordinary."
One of the supernatural stories is about a headless woman and requires an old-fashioned illusion and unusual prop elements, designed by Suffolk alum Anna Martel.
"Pilgrims" might be over 30 years old, but it is still timeless. The message of exploring the human condition and overcoming adversity is pertinent to what Savick calls this "strange limbo" of still being in a pandemic, but with eased restrictions and limited mask mandates. 
"The play actually talks a lot about being in purgatory or being between places and I think that's also true," he said.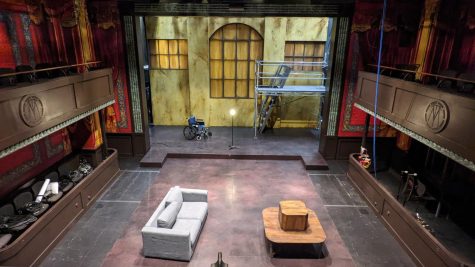 This is one of the first mainstage theater shows at Suffolk since the pandemic halted in-person performances and Savick is happy to be back, especially since theater is all about being present in a shared room.
"At Suffolk, we've done all kinds of things to keep the flame alive, but live performance could not be one of them," Savick said.  "This sort of return seemed like this needs to be a very significant celebratory play, that doesn't directly address all of this because nobody wants to think about it anymore."
The theatre department continues to provide as many opportunities as possible for students. Every student who auditioned for "Pilgrims" got a role and in this case, 35 students were recruited, similar to the massive cast of the 2000 production. 
Kieran Khanna, a junior at Suffolk, is one of the students a part of the cast. Khanna plays Elmo, a small child who meets a beautiful silver girl and plays with a toy monkey, as he describes. 
"'Pilgrims of the Night' is a very magical play, yet sort of like a fever dream. It is funny, heartwarming, magical at some points, very exciting and surprising," said Khanna. 
Khanna values his time spent working with Savick and his castmates, who have motivated him to become this strange character.
"He knows how to put this story together, and he knows these characters more than any of us. It's also an amazing experience working with my fellow cast members, as well as the amazing crew," said Khanna.  
Unique to this play is senior Justin Lahue, who is the first student to design a faculty play at Suffolk.
"That's notable because that's never happened at the Suffolk theatre department before. We've had students design some of the showcase and spotlights, but never a faculty production," said Savick. 
Lahue, in collaboration with the Huntington Theatre Company, has been working as the scenic designer since December to bring the theatrically ambiguous "Pilgrims" to life by determining the physical world of the play.
"We took great care in fleshing out each of these worlds to work cohesively together while also containing their own energy," Lahue said.
In order to create the deteriorating ferry terminal, which provides shelter for the characters and a place for them to share their tales, Lahue collaborated with other design and tech departments and looked at images of ferry terminals through history. He also researched buildings constructed through the Works Progress Administration in the 1930s to make a model of a set and then adapted that to the Modern Theatre stage. 
Lahue is delighted to be back creating sets for the theatre department but on a larger scale. 
"Being one of the first students to take on the role of scenic designer for a faculty show of this scale has truly been a privilege… Wes is such a refreshing director to work with through every step of the creative process," he said. 
Similar to Savick, Lahue thinks this is the perfect play to return to the spring mainstage with. 
"With live performances returning in venues across the country, there is no better show to welcome Suffolk theatre back than one that so joyfully celebrates the magic of storytelling," said Lahue. 
For students that want to see this wild, yet poignant performance, tickets are $5 and are available at www.tinyurl.com/PilgrimsSU.
"Pilgrims of the Night" takes place at Modern Theatre on Thursday, April 7 at 7:30 p.m., Friday, April 8, Saturday, April 9 and Sunday, April 10 at 8 p.m. There will also be a matinee performance at 3 p.m. that Sunday.
Follow Sarah on Twitter @thesarahdipity.