W!CKED returns with their first showcase in three years
Suffolk University's W!CKED hip-hop dance crew will be hosting their annual showcase, "EXCLAMAT!ON," on April 1 for the first time in three years after facing COVID-19 related challenges.
The showcase, being held at the John Hancock Hall in Back Bay, will also feature the Suffolk University Dance Company, Pasión Latina, and 10 to 15 collegiate dance teams from surrounding Boston schools, along with a few professional dance teams. 
"It's actually a really wide variety in the lineup," said Cecilia Gonzalez, captain of W!CKED. "We've hired a couple professional groups from Providence and Orlando." 
"EXCLAMAT!ON" will be the club's first showcase since Spring of 2019, according to Gonzalez and Sonya Chaabuni, another captain of the hip-hop crew. Due to the pandemic, the group's executive board members have faced challenges in preparing for the event.  
"I'm the only one on the team that's ever experienced a W!CKED showcase because I'm the only senior on the E-Board,"  Gonzalez said. "Right now, it's just trying to re-jog my memory from freshman year and trying to catch everyone else up so we can all put our hand in and get it done." 
In addition to the struggles of getting back into the swing of holding showcases, Chaabuni also said the group expects to face some challenges with local mandates. 
"The biggest challenge would be the current mandates in place," Chaabuni said. "For example, everyone that's going to the showcase and performing there needs to be vaccinated. So we know that there's going to be a lot of issues surrounding who can come and who can be at the show."
Despite the struggles that they have faced and expect to face in the future, the captains are looking forward to the showcase and are excited to get back to holding their annual events. 
"Just being around other dance teams and being a part of the Boston Dance community, because W!CKED's been kind of distant for some time, [is great]. I think the fact that we're getting back into it and being surrounded by dancers and being in that environment is something that I'm most excited for," Chaabuni said. 
Tickets for EXCLAMAT!ON are on sale now at the group's Eventbrite page and more information about the event's lineup can be found on their Instagram page @suwicked. 
Follow Grace on Twitter @EGraceDreher.
Leave a Comment
About the Writer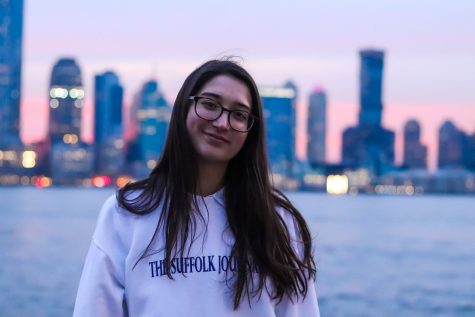 Grace Dreher, World News Editor | she/her
Grace is a junior journalism major with a Print/Web concentration from Lanoka Harbor, New Jersey. When she isn't writing, you can find her at track practice, exploring Boston or listening to music. Grace is also very passionate about politics and after college she hopes to work as a journalist and travel. 
Follow Grace on Twitter
@egracedreher