Screenwriters Jacob Chattman and Suffolk alum Gustave Cadet releases graphic novel
Award-winning screenwriters Jacob Chattman and Gustave Cadet, a Suffolk alumnus, recently decided to go down a different path from filmmaking, releasing their first graphic novel "Moons, vol. 1."
"If you distill it down, it's about how if you don't give up on yourself, you're going to make it," Chattman said about the story's message.
The partners in crime have been working together for 13 years. Cadet, who graduated in 2008, said his time at Suffolk is what brought the two together. 
When they met, Chattman had just road-tripped from Arizona to Boston to play in local band "Lagoon" per his sisters request, and Cadet, having just started a small production company with a fellow member of Suffolk's student film organization Ram Cam Productions, then known as WSUB, had the idea to reach out to local bands and film free music videos for them. 
Cadet reached out to the band as he found the band's blog, which was run by Chattman, to be hilarious. The business partners and best friends have been attached at the hip ever since, having written countless award-winning scripts together. 
"We're the Yin and the Yang," Chattman said.
The two have won multiple scriptwriting competitions together, like Fresh Voices for sci-fi pilot "After We Fall," Creative World Awards for best comedy pilot script "The Feed," the following year placing second with script "Cop Raptor," which nearly got sold in Hollywood. 
The pair also placed in the PAGE International Screenwriting Awards with the first script they had written together, which they redid after moving to Los Angeles before placing in the competition. 
"I mean, for me anyway, that was the affirmation we needed to be like, 'Hey, you guys are on the right track and should continue to pursue this," Cadet said. 
Not only was it due to his time as a student at Suffolk that Cadet met his best friends and business partners, but he said the university helped him find who he was as a young adult.
"Suffolk saved my life," Cadet said. 
Those were the first words the alum said when asked to speak on his experience at the school.
Cadet said he was able to find himself with the help of his cousin, who graduated his freshman year, and by joining Suffolk's student film organization. As an incoming freshman, Cadet was incredibly introverted and knew that he wanted more than a typical 9-5 job, but he was unsure of where to go with it, and it's his experience with the people at Suffolk that really broke him out of his shell. 
Suffolk's WSUB led him to the university's Performing Arts Office and theatre department where he worked with Suffolk professors Wes Savick and Marilyn Plotkins, as well as PAO Director Kristen Baker and Associate Director Kathy Maloney. He said the impact they made on him remains, and that he is still in contact with some of them over a decade after graduating.
Cadet went on to be general manager of WSUB as well as participating in countless productions for PAO and the theatre department — giving him an experience he is still grateful for today. 
"Moons" is a story that started out as a screenplay, having gone through many iterations before the pair landed on making it a graphic novel. Chattman said he was originally inspired to write the story based on a science program he was watching on TV.
"[The program] just blew my mind. So, of course, I call Gustave and I'm like, we got to write a script. I don't know the idea. I don't know many characters. I mean, it just has to exist on this world where the moon drags the ocean around," Chattman said. 
"[Gustave] started fleshing out the characters and I had kind of another dream about the opening scene of the novel," he continued. "This is kind of how our partnership works. I have these nebulous, insanity things and Gustave is  like, oh, let me chop this into perfection and add the brilliant sort of character voices to it."
The original script for "Moon" went through about seven iterations, as it was originally written as a fantasy TV series. It was the first time the pair wrote in this genre.   
Chattman said this was their hardest script to distill down because he had so many ideas about history and magic systems and deities that he couldn't stop writing. 
"You're a writer, you get all this stuff down, you have the script, you want to see it made, you see it so clearly, but you can't do it yourself," Cadet said, speaking on the world of Hollywood, and how it can be incredibly frustrating. 
"So with 'Moons,' we experienced a little bit of that," he continued. "It was that when we had these general meetings and "Moons" would come up in conversation, they're like, oh my god, this sounds amazing. This could be like the next 'Game of Thrones.' This is a franchise series. But again, you two are nobody's in the system, and nobody is going to spend $2 million on the pilots, let alone the show." 
After going through many frustrating experiences, the idea popped into their heads that they should just make "Moons" a graphic novel. The work may have been much more difficult if they had to start from scratch, but it was already in such a beautifully written visual format having started out as a script that going to the illustrators for the novel worked out really well, they said.
"I never expected to like the process of doing a graphic novel as much as I did," Chattman said. "It's actually really fun, once you see these characters in person and you see the work that the illustrator is doing, and it's a very, very inspiring medium that I didn't expect to fall in love with as much as we did."
The cover of the graphic novel, which is the main character of the story Ora, is something that many people found to be captivating, the pair said. Chattman said seeing their vision finally come to life after seven years was moving.
"Seeing that, I mean, I remember tearing up," Chattman said on seeing the final illustration for Ora.
Chattman and Cadet decided that this novel, at its core, needed to be the story about a young girl dealing with loss and coming into herself. The story has a really inspiring and touching message, while at the same time, is filled with big villains, wizards, creatures and magic as well.
Of all the things learned throughout their years as writers, the two encourage others to pursue their goals and to not be afraid of making mistakes.
"Don't be afraid," Chattman said. "I mean, Gustave and I failed so many times on so many scripts and so many ideas. You learn so much, the greater the failure, the more you learn from it. The bigger your fall, the more you'll glean from that. So fail as much as you can," 
"Moons, Vol. 1" is available for purchase now on Comixology.
Follow Abby on Twitter @astreabbs.
Leave a Comment
About the Writer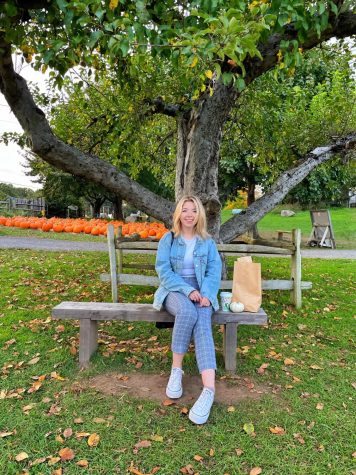 Abby O'Connor, Arts & Entertainment Editor | she/her
Abby is a senior majoring in print/web journalism and minoring in english. When she's not writing for the Journal, you can find her sipping a cup of coffee either reading or playing video games. She also enjoys spending time with her dog and going on hikes. Music and arts is her passion and she hopes to find a job writing about what she loves.
Follow Abby on Twitter
@astreabbs
Email her at
[email protected]