Suffolk University's show choir group, Rampage, is singing and dancing their way into everyone's hearts on campus as they make their return to in-person shows.
Rampage, the only collegiate show choir group in Massachusetts, combines choral songs and choreographed dance to create upbeat musical performances. 
"We are the only club on campus that sings and dances at the same time, which is incredibly hard," said junior Morgan Mitcheson, the club's president.  
Rampage sang the National Anthem at a Providence Bruins game last weekend; the group's first in-person performance since the start of the pandemic. 
"You could really feel how excited everyone was even though it might just be the Providence Bruins, we're just singing in no less than a minute of a song, but just having that experience was really nice for everyone," Mitcheson said.
During the mostly virtual 2020-2021 academic year, Rampage had an unusual two semesters of dancing in person but recording vocals virtually. For their performances, on-campus group members recorded them dancing together while those at home would send their single parts in to edit into a final video.
The club also hosts FAME, a high school show choir competition, in New York every March, but it has been canceled for 2022.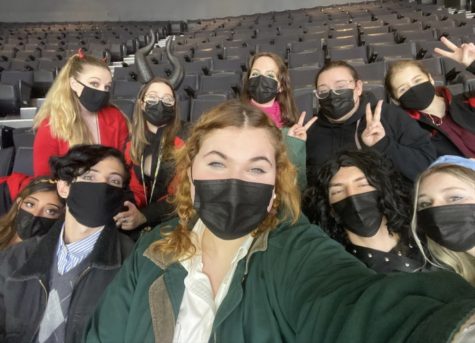 "We're hoping to get there for 2023, but trying to make up different ideas to try and compensate has been hard," Mitcheson said.
For the remainder of the semester, Rampage is partnering with Fusion Dhamaka to perform at their Fusion Festival on Nov. 18, where they will sing Lady Gaga's "The Edge of Glory." 
The group will also make an appearance at Suffolk's Performing Arts Office's annual winter concert on Dec. 8 to sing "The Edge of Glory" and "Accidentally in Love." And they will close out the semester at their annual end-of-year cabaret show that consists of individual and group songs.
"I look forward to seeing everyone grow, singing and dancing-wise, watching people step out of their comfort zone and feel confident. It's just beautiful," said Rhea Katoch, events coordinator of Rampage. 
The 18-member club has been practicing since the end of September for these upcoming performances. They rehearse every Sunday and Wednesday with one day dedicated to vocals and the other to dance, but music often gets perfected the quickest. 
"It's a hard practice, but it's a nice way to decompress and also take your mind off of things. Get a little bit of exercise and dopamine into your system," Mitcheson said.
Mitcheson has been involved in Rampage since her freshman year, going from dance captain to the group's treasurer, but this is her first year as president. She hopes to bring more acting elements into their performances to blend with their singing and dance. 
"I've really done a lot of analysis on how we can tell a story with our art still without it just being like 'oh, we're just singing and dancing' because it's a little bit more than that behind the curtain," Mitcheson said.
Rampage will hold another set of auditions in the spring semester, but prospective members can reach out to the club's Instagram page @suffolkrampage.
"I look forward to seeing [Rampage] get to shine again. And like fully in its peak … every year we're getting so much better and it's so impressive," Mitcheson said.
Follow Sarah on Twitter @thesarahdipity.