With one week until Election Day, Boston mayoral candidates Annissa Essaibi George and Michelle Wu squared off in their final debate Monday night.
The two candidates debated issues surrounding COVID-19, Boston's housing crisis, equity and early education. 
Essaibi George criticized Wu over her plan to tackle Boston's opioid and housing crisis. According to Wu's campaign, she plans to institute measures such as increased drug trafficking enforcement, streamlined zoning for affordable housing and expanded access to social services.
On Oct. 19, interim Mayor Kim Janey declared drug addiction and homelessness a public health crisis. She said the encampments at the intersection of Massachusetts Avenue and Melnea Cass Boulevard will no longer be tolerated.
"[Wu] doesn't truly understand the crisis that is Mass. and Cass," said Essaibi George. "I have spent days, nights and overnights at Mass. and Cass, and our city's residents who are unsheltered are in crisis. They need help today."
Candidates discussed rebuilding the bridge from Boston Harbor to Long Island, which would allow access to numerous rehabilitation centers and shelters. 
Wu challenged that it would take too long and immediate action is needed.
"Every conversation that I have is about taking urgent action. The bridge, and the price tag of doing so, means that we would be giving up and diverting our resources away from urgent action. I'm not willing to wait," Wu said.
The candidates agreed that the housing crisis in Boston needed immediate action. While Essaibi George advocated for elevating first time homeowners, Wu argued for rent stabilization.
"I'm the only candidate on this stage that supports rent stabilization, which has worked to keep people in their homes in cities across the country," she said.
Suffolk sophomore Caitlyn Green said that she supports Wu because of her unique approach to tackle Boston's biggest issues.
"Specifically I'm concerned about housing, and Wu has already had a hand in repairing short term rental laws," Green said. "I feel that the last thing Boston needs is to maintain the status quo. Especially with the pandemic, many aspects of the way our city is run have been revealed to be even more fragile than previously thought."
Both candidates emphasized the importance of early education throughout their campaigns. With Essaibi George as a former teacher and Wu as a mother to young children, both insist they are heavily invested in the success of the Boston education system.
Stephen Merrick, president of the Suffolk University Democrats, voiced his support for Essaibi George, citing her experience in education.
"I believe she has realistic policy goals with a practical application," he said. "I have a great amount of respect for her experience working in the city as a small business owner, but most importantly as a teacher within the Boston public schools."
According to a Suffolk University/Boston Globe/NBC 10 Poll published Oct. 19, Wu is leading in the polls by a significant margin, polling at 62% compared to Essaibi George at 30%. The winner of the election will become Boston's first elected woman and woman of color mayor.
Early voting is already underway, and is available until Oct. 29, but registered Boston voters are encouraged to vote on Nov. 2 if they have not already.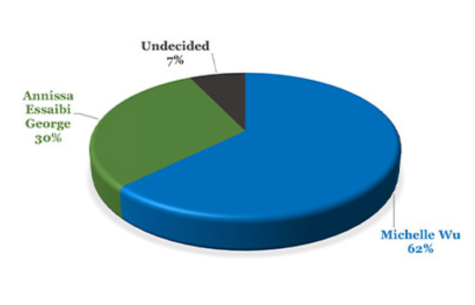 Cam Sweeney, a Suffolk Votes ambassador and team leader for the Suffolk Votes podcast, emphasized the importance of students getting out to vote on election day. 
"For students living here in Boston, the upcoming election on Nov. 2 is incredibly important," he said. "Regardless of how you feel about these ballot initiatives or who you support for mayor, the best way to make your voice heard is by getting out to vote."
Follow Shealagh on Twitter @ShealaghS