Wu takes lead in historic Boston primary
Boston City Councilor At-Large Michelle Wu won the preliminary election with 33.4% of the vote, with City Councilor At-Large Annissa Essaibi George coming in second. Wu and Essaibi George will now face off for mayor in the general election on Nov. 2.
This year's mayoral race was the most diverse in the city's history, with all five of the major candidates being people of color. The winner of the general election will be the first elected person of color to serve as mayor of Boston, according to the Boston Globe.
"I looked at the ballot this morning and thought, 'This is real change,'" Enid Eckstein, a community activist from Jamaica Plain, said to the Boston Globe. "It really gave me pause and made me feel hopeful for the city, and especially for women."
Interim President of the Suffolk University Democrats Stephen Merrick said that he believes this is a sign of change for the City of Boston.
"I think [the diversity of the candidates] has a huge effect on the voters, especially when it comes to mobilizing different communities," Merrick said. "Every election prior to this, a white man has won. Now, the top contenders are women of color."
Merrick also said that he thinks Mayor Kim Janey, who was appointed as mayor last March, had to run a unique campaign, as she has served as mayor but was not elected to the position.
"Normally, the incumbent is favored to win, but in this case, she's not," Merrick said. "I think a lot of that is because she did come into the race later than many of the other candidates."
Final election results for the Boston Mayoral races can be found below.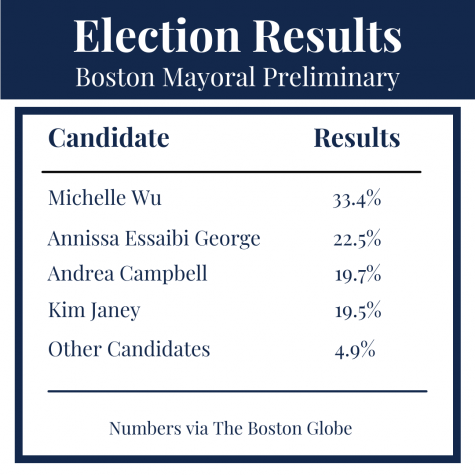 Leave a Comment
About the Contributors
William Woodring, News Editor | he/him
Will is a junior majoring in public relations. He is originally from Medway, Ma. In his free time, he enjoys listening to music, writing, reading, and running. He is interested in political journalism and hopes to go into politics after graduating.

Follow Will on Twitter @woodringwill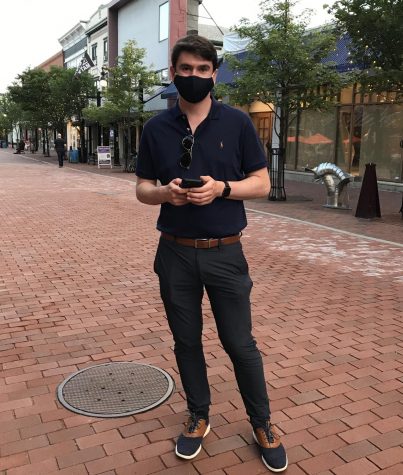 James Bartlett, Multimedia Editor, SJ Podcast Host | he/him
James Bartlett is a senior studying print and web journalism. Originally from Lowell, Massachusetts, James enjoys Boston sports, as well as the arts scene Boston has to offer. James has a strong interest in photojournalism as well as new journalism tools such as podcasting and user generated content. James is currently an intern at Boston.com
.
Follow James on Twitter
@James_bartlett8
Email him at
[email protected]