'The Fact of a Body' author speaks to Suffolk students
True crime author Alexandria Marzano-Lesnevich read from and explained the story behind their book "The Fact of a Body: A Murder and a Memior" on April 8 via Zoom. 
This event was hosted by Suffolk University English professor Amy Monticello, whose honors true crime seminar students organized the event. 
"The Fact of a Body" is a true crime narrative discussing the stories of Ricky Langley, who is spending life in prison for the killing of Jeremy Guillory, a 6-year-old from Louisiana. This story also dives into that of the narrator, who encounters Langley while working at a law firm fighting the death penalty.
The narrator struggles with the memory of their own sexual abuse by their grandfather while they research Langley and his case.
Marzano-Lesnevich read from their book and answered questions throughout the virtual meeting.
"Louisiana 1992, the boy wears sweatpants the color of a Louisiana lake; later the police report will note them as blue, though in every description his mother gives thereafter she will always insist on calling them aqua or teal. On his feet are the muddy hiking boots every boy wears in his part of the state perfect for playing in the woods, in one small fist he grips a BB gun half as tall as he is… where the boy lands he takes that BB gun," reads a passage in the book.
Marzano-Lesnevich said they like to start with this reading because they don't want to lose sight of the heart of this story, which is Guillory, who was murdered that day in 1992.
"I had no intention of writing this book. Initially I would have done almost anything to avoid writing this book. I did not particularly want to spend years of my life thinking about the things this book goes over," Marzano-Lesnevich said. 
When asked what their editing process was like, Marzano-Lesnevich said that trauma takes a lot longer to write about. They said they needed time to step away from writing the book and that it wasn't easy.  
"The Fact of a Body" received a Lambda Literary Award, was long listed for the Gordon Burn Prize, and a finalist for both the New England Book Prize and a Goodreads Choice Award. It was also named "Best Book of the Year" by Entertainment Weekly, Book Riot and The Guardian. 
Marzano-Lesnevich has been published in The New York Times and The Boston Globe and earned a bachelor's from Columbia, a juris doctorate from Harvard, and an MFA from Emerson.
"The Fact of a Body" can be found at your local Barnes & Noble or ordered on Amazon.
Leave a Comment
About the Writer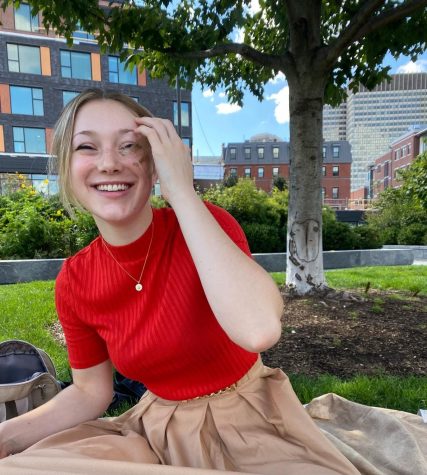 Emily Collins, Staff Writer | she/her
Emily is a senior majoring in print/web journalism and minoring in biology at Suffolk University. If she is not reading or writing, she can be found listening to music or spending time outside. Emily is also a member of Alpha Sigma Alpha and the Ramifications on campus. After college, Emily hopes to work as a wildlife journalist.
Follow Emily on Twitter at
@emilycSUCJN363
.