ATCK Fitness offers students a chance to stay active despite being remote
Boston-based studio ATCK Fitness and Suffolk University have teamed up to supply students with an alternative and remote fitness experience.
"I got into it because my tennis season got cancelled and I wanted to have some form of exercise that I can stick to," said Ilda Ascic, one of the 300 Suffolk students who registered for the program.
ATCK Fitness has been training Boston residents for eight years, and all classes are run by its managers.
The 12-week program started when a part-time employee at ATCK, who is also an employee at Suffolk, heard concerns from students.
"She was hearing that students were worried about continuing to be active and healthy during the epidemic," said Robbie DiTullio, regional manager of ATCK Fitness.
This free service then spread from Suffolk to four other colleges in the Boston area. Suffolk, however, has the highest participation rate..
ATCK Fitness runs 45-minute classes five days a week. The classes are offered Monday through Friday from 7 a.m. to 7:45 p.m.. On Fridays, only one class is offered at 7a.m.
The program is fully remote, done from home and will continue to run this way for the remainder of the cycle. This allows students to participate from wherever they are located this semester.
The class is high intensity interval training style, meaning that no equipment is required, as the program utilizes body movement. All that is needed is some space to safely move around. The class is open to all fitness levels from beginner to advanced.
"You start off with a warmup and stretching, then move to a three series of five exercises that last 45 seconds," Ascic said. "We end with five ab exercises that last one minute each. Of course, in the end it didn't count unless we take a sweaty selfie."
Though the program was originally slated to run in the fall, DiTullio is hopeful for a continuing partnership with Suffolk and the students.
"It depends on the interest, we have six studios around Boston, so it becomes a juggling act when you add the student classes," DiTullio said.
Though the program has already begun running, registration is still open to all Suffolk students and will continue through mid-December
"What are you waiting for?" DiTullio asked.
Follow Ashley on Twitter @Ashleyfairchi14
Leave a Comment
About the Contributor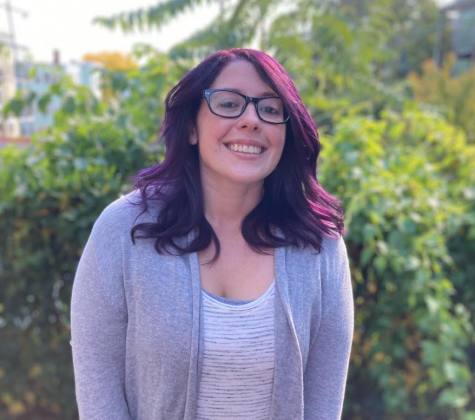 Ashley Fairchild, Asst. Copy Editor | she/her
Ashley
is a senior majoring in print/web Journalism. Outside of Suffolk, she can typically still be found with her nose in a book and her hand wrapped around a coffee mug. She enjoys lifting weights, finding new cafes and most importantly, playing with her dog, Pepper.
Follow Ashley on Twitter @AshleyFairchi14