Professors reflect on pandemic, changes to teaching and research
When Suffolk University transitioned to online learning in March of 2020, Sonia Alleyne, Executive in Residence at the Institute for Public Service [IPS], was far away from Boston.
"I was on my way back from Puerto Rico. IPS has a travel course, [and] we [were in] Puerto Rico at the height when everything was happening," Alleyne said. "We had just got back in time before everything shut down, and then I think we had a week for preparation before going remote."
Upon her return to Boston, Alleyne said she knew she needed to take a moment and let people settle into the new modality of learning. 
"What's important is that I had to provide space and grace to students. [I couldn't] immediately just jump into the curriculum, but provide the students with space to talk about how they felt, the anxiety," said Alleyne. "Empathy was very important for faculty members to have with our students, so I provided that."
In a time when there are so many unknowns, Alleyne said trying to remain consistent was best.
"It was a foreign experience for everyone, but I wanted to make sure  that I provided continuity and that students were able to express how they felt," said Alleyne. "I made sure at the beginning of each class to start off with 'How are you doing? Is there anything you want to talk about?' before we got into the curriculum."
The dramatic change in modality was jarring for everyone. Nicholas Frangipane, a professor in the English department, said his department worked quickly to support one another. 
"At that moment, everyone was nervous about coronavirus and teaching online, so I remember we had a faculty meeting where we talked about it. We set up a Blackboard message board where we could exchange teaching tips for teaching online," said Frangipane. "The department really pulled together in those early months, and that was really, really helpful."
Beyond professional meetings, Frangipane said faculty members in the department found different ways to stay connected throughout the adjustment to online, and adapting to pandemic teaching. 
"I'm close friends with some other English faculty, and we had a text chain going where we would talk about our struggles and support each other," Frangipane said.
Jonas Kaiser and Bobbi Van Gilder, both assistant professors in the communication, journalism and media department, began at Suffolk during the fall of 2020, when online teaching, hybrid and hyflex learning was the norm. 
Similar to the English department, Kaiser said he appreciates the support his colleagues in the CJN department have given one another. 
"Our department, which has been very open and inclusive, is very helpful. For me, coming to Suffolk during a pandemic, having to tackle all of these different aspects of remote teaching and hyflex, [my department] was really supportive and really good," Kaiser said. 
Van Gilder agreed. 
"I absolutely love my colleagues. We provide social support for one another if we have concerns with something that's going on in the classroom," said Van Gilder. "I know that I can reach out to my colleagues, especially those who have been at Suffolk longer than I have, to get suggestions. We bounce ideas off one another, and my department has been tremendous." 
In order to advocate for the faculty and instill a sense of community, the College of Arts and Sciences has a Faculty Life Committee. Van Gilder is a member, and she said they recently sent out a survey to faculty to get a sense of how they were doing.
While the survey results are not available yet, Van Gilder said the committee hopes to learn how faculty members are handling the pandemic, and ways they can advocate to increase faculty morale. 
"Obviously, we've lost a sense of community on campus because no one was here, and then the added workload of teaching and service is really exhausting," said Van Gilder. "We just wanted to take the temperature of the faculty, gather that information and learn more about what faculty has been struggling with, and things that have benefited them throughout the pandemic period." 
In addition to teaching, professors on a tenure track also need to complete research and service to be considered for tenure. While it varies from department to department, and depending on what type of research a person conducts, when most of the world shut down, research almost came to a standstill. 
"I do human subject research, so I rely on actually meeting with participants whether it's on Zoom or phone conferencing," said Van Gilder. "But because everyone, even outside of education, was feeling the weight and stressors of the pandemic, it made it impossible to even recruit research participants. It's been a very difficult time for research."
For Kaiser, he said he's fortunate that his research is not human-facing. However, with the pandemic, he said everything just takes longer. For professors on the tenure track, the university offered a year extension without penalty to continue their research.
"There are a myriad of reasons of how the pandemic affected each and every one of us, not only professors, generally speaking, societally, that made lives challenging," Kaiser said.
As Suffolk enters its fifth semester impacted by the pandemic, instructors have endured a lot of changes. 
Whether it be teaching in a hyflex mode, meaning the course is delivered simultaneously in person and online, or if it's rewriting activities to be able to work for an online environment, there is a lot added to their plate. 
Despite increasing amounts of work in increasingly unprecedented times, a common thread remained: care for students and for others. 
"I know that everyone is struggling in different ways even now as things [seem to be] waning," said Frangipane. "As a teacher, that's something that I try to think about a lot these days, you know, how can I be kind to my students, how can I give second chances and how can I put learning first in this difficult situation."
Kaiser agreed with the sentiment.
"I think, as professors, we will mostly try to be gracious to students and be understanding of their circumstances. The same is true I think for how we interact with each other on a faculty level," said Kaiser. "Each and every one of us just wants to get through this. Of course, there have been issues along the way. No one really plans for a global pandemic that lasts for over two years."
Regardless of the state of the world, Alleyne said opening the channels for students to share their feelings remains paramount.
"Even if it's not a pandemic, it's important to ask [those questions]. I start all of my classes asking 'How's everyone doing? How are you feeling? If anyone needs to talk to anything, you can take time with me,.'' said Alleyne. "It's important to listen to students, and provide space and grace."
Follow Grace on Twitter @LaverriereGrace
Leave a Comment
About the Contributor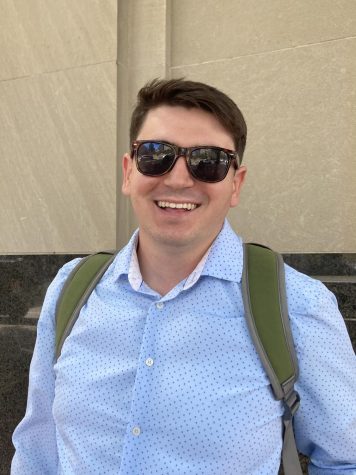 James Bartlett, Multimedia Editor | he/him
James Bartlett is a senior studying print and web journalism. Originally from Lowell, Massachusetts, James has a strong interest in photojournalism and new journalism tools such as podcasting and user-generated content.
James is currently a Web Journalist at WHDH Channel 7 and has previously worked at Boston.com and the Newburpoty Daily News.
Follow James on Twitter
@James_bartlett8
Email him at
[email protected]