Six fun and safe activities to do in Boston during the fall
Fall in Boston may not be the same as before the pandemic, but there are still plenty of ways to enjoy this season in the city. Here are six fun things to do in Boston this fall while staying safe and getting outside.
Experience Boston's fall foliage
Fall in New England is unlike anything else, and it's no secret that many people travel here for the beautiful scenery. The changing leaves are the first true sign that autumn is here, and there is no better place to enjoy it than right here in Boston!

The Boston Common, as well as the Boston Public Garden, make for the best fall walks with the fall foliage overhead. The green leaves changing over into golden browns, reds and oranges create a gorgeous landscape that can be enjoyed while strolling through the Common and Public Garden. This is also a great spot to take Instagram-worthy fall photos by the bandstand or by the pond.
Not to mention, walking through both spaces provides a much needed break from Zoom classes and homework. Social distancing and other safety protocols can easily be followed here. Just grab a mask and head on over for an unforgettable fall season opener. 
Sail the Boston Harbor
Not only can fall be experienced on land, but on water too! The Boston Harbor is home to several different sailing lines that give passengers a view of Boston's skyline like no other, and fall is the perfect time for seeing the skyscrapers tower over the ocean. Guests glide on the water while looking at the historic Boston buildings and magnificent foliage, creating a delightful experience. 
Liberty Fleet is a harbor cruise line with many ships available during the week. Step on board one of the fleet's classic tall ships and learn about the history of Boston when it was a sailing town, or enjoy a night ride on one of their sunset harbor cruises.
According to Liberty Fleet's website, all of the ships are still running, but at 50% capacity so that proper safety protocols can be followed. Masks are required and contactless purchases for food and beverage can be made ahead of time. The cruises, ranging from $38 to $43, are recurring daily and run for about two hours each.
Head over to Liberty Fleet's website to learn more and book a ticket before they're all sold out for the fall!
Learn about Boston's haunted history with Boston Ghosts' walking tour
Looking for something spooky to get you into the Halloween spirit this month? Buy a ticket for a Boston Ghosts Tour that occurs everyday during "spooky season." This trip travels to eight different historical and haunted locations in the city, hoping to leave its participants frightened and entertained.
Tour groups meet at 139 Tremont Street, at the entrance of the Boston Common, and the tour takes off by foot from there. According to the Boston Ghosts' website, the tour walks a total of one mile and takes about an hour to complete.
In following safety guidelines, the group sizes are limited and everyone must wear a mask for the entirety of the tour. Admission, starting at $5, must be purchased ahead of time online.
Kick off the month of October with a Boston Ghosts tour! Visit their website to find out more and purchase a ticket.
Shop at Faneuil Hall
Boston's beloved Faneuil Hall Marketplace (4 South Market Street), has officially reopened! Most businesses are back to serving the public and appropriate safety measures are now in place, according to Faneuil Hall's website. 
This iconic location in Boston has something for everyone. Several restaurants and shops are opened year-round, and the historic Quincy Market has its many food merchants and kiosk operators in full swing. 
Some shops and restaurants that can be found here are The Black Dog, Urban Outfitters, Ben and Jerry's, American Eagle and more. General business hours can be found on the Faneuil Hall Marketplace website.
Admire art at the Boston's Latin Quarter Art Walk
National Hispanic Heritage Month runs from Sept. 15 to Oct. 15, and Boston's Latin Quarter and the Hyde Square Task Force are celebrating! 
Happening daily until Oct. 15, visitors can head down to the Jackson Square MBTA Station and enjoy a free self-guided tour through 11 different public art pieces, consisting of murals, sculptures and more. Participants can learn about the history and significance of the art in the cultural district as they walk through, ending the tour at Centre Street.
The walk is all outdoors and requires a mask to be worn at all times, as well as proper social distancing. Check out Boston's Latin Quarter Art Walk Facebook page for more information on the beautiful pieces and tour details! 
Explore Beacon Hill
Boston's historic Beacon Hill is unlike anything else during the fall. The foliage is gorgeous and the streets are lined with enchanting brownstone homes that really get you into the autumn spirit.
Pumpkin lined streets, Halloween decor and the crisp, fall air make for an awesome walk that is located right near Suffolk University's campus. Beacon Hill also provides a magical background that is perfect for taking pictures! 
Adventure into Beacon Hill this season to experience the peak of autumn activities. It will definitely live up to all fall expectations.
Leave a Comment
About the Writer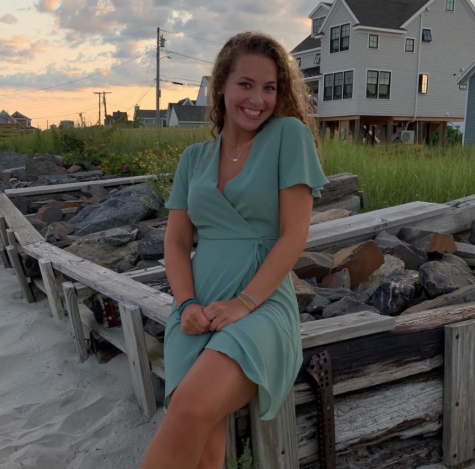 Roxanne Snowden, Staff Writer | she/her
Roxanne is a senior from Litchfield, Connecticut and is a broadcast journalism major. She enjoys spending time with family and friends, going to concerts, trying new restaurants and singing. Different from her small hometown, Roxanne loves being in the city, and one day hopes to work for ESPN and report on the sidelines of an NFL Super Bowl.

Follow Roxanne on Twitter @roxsnowden