The vendors of SoWa open market in South End all had the same reaction when it came to their ability to sell their products to the people of Boston.         
 "We are all just happy we can be here," said an employee at 2 Dogs Treats, who wished to remain anonymous.
The outdoor market, usually flush with thousands of daily visitors, is now doing the best it can to work within the COVID-19 guidelines.
The new guidelines are strict, allowing only 120 customers into the market at a time– a far cry from the 10,000 people a day the market is used to seeing. 
The guidelines also allow more flexibility for customers. A new feature of the market is the ability for customers to pre-order products from certain vendors ahead of time, making the trip in and out of the market a breeze. 
The event manager of the market and GTI Properties, Ali Horeanopoulos, was very open about how the market has been affected.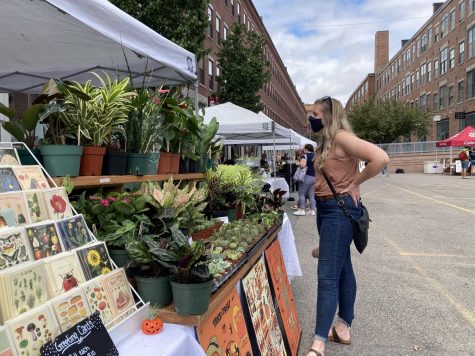 "We are an essential business, that's why we can be here. We went from having close to 10,000 people a day, and that's obviously not feasible right now, but what we do have has been very well received by the public," Horeanopoulos said. 
She also noted that though the closure of the Beer Garden and Food trucks has made it less lively, the market is still seeing a reassuring influx of customers. 
One employee of 2 Dogs Treats noted how the lower numbers of customers has them finding new ways to release their products and find a new customer base. A large portion of their purchases have gone from farmers markets to Amazon, where customers can now find the handcrafted dog treats. 
This employee also mentioned the struggles they face.
"The Winter Festival has already been canceled. That festival usually brings in enough profit for January and February alone. We just have to keep plugging along and figure out new ways to promote our business," the dog treat employee said.
This is a major concern for most, if not all vendors. Small businesses such as The Healing Rose, a CBD based company that crafts products from bath soaks to salves, has already seen a decline in in-store purchases. The Healing Rose owner, Laura Beohner, opened up about her struggles.
"Our products were in over 100 stores all over Boston. Now who knows," Beohner said.
The Healing Rose products are all available on the business's website, and they ship within a day. 
The vendors who are still able to utilize the SoWa market were not only happy to be there.
Tucker Gaccione, who owns a plant stall called The Happy Cactus, noted how safe he felt at SoWa.
"This market is really the one that is worth it, we feel the safest here, and we know the customers do too," Gaccione said.
Though the veteran vendors of SoWa are trying their best to keep their businesses afloat, some newcomers were also taking on the market in the world of COVID-19. 
Newton-based Pet Wants is a brand-new business that is owned by Rosaline Hansen and opened Sept. 1. They offer all natural remedies for dogs and cats, along with small batches of food that they deliver to local clients. When asked about the decision to open amid a pandemic, Hansen was positive about it.
"Why the heck not? You have to follow your bliss," said Hansen.
It seems like the SoWa Market will continue to do just that. The market will remain open for another four weeks, luckily able to extend its season until Oct. 25 to give vendors and customers a little more time and a little more bliss.
Follow Ashley on Twitter @AshleyFairchi14.