Chance the Rapper stuns in an eccentric virtual concert at Ralph Lauren's Chicago store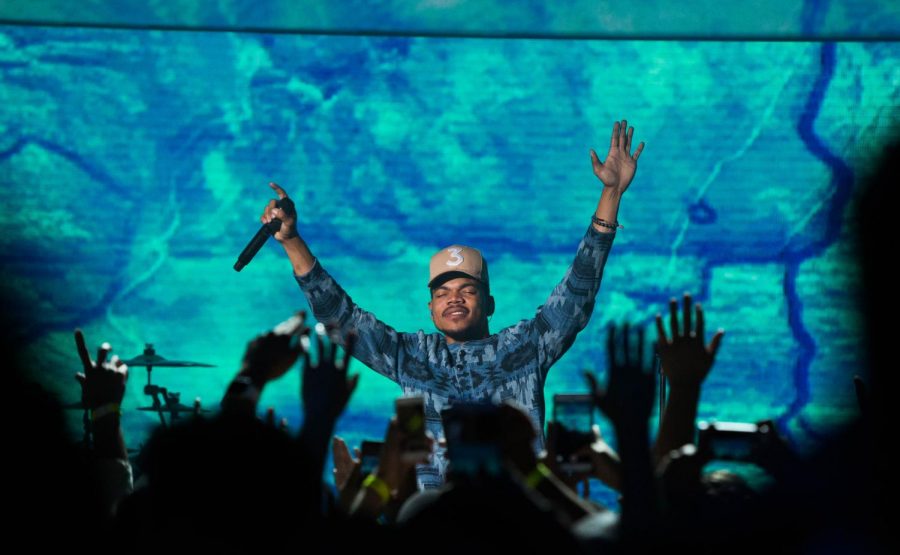 In the age of technology combined with a global pandemic, creatives are reinventing ways to display their work. Virtual concerts are now the best way for artists to express their creativity and engage with their fans. Electrifying, warm, intimate and thoughtful are just some ways one can describe Chance the Rapper's virtual concert that was filmed at Ralph Lauren's Chicago flagship store.
The Chicago-born rapper, Chancelor Johnathan Bennett, known artistically as Chance the Rapper, always shows a level of authenticity as an artist. From his debut mixtape "10 Day" in 2012 to his first studio album "The Big Day" in 2019 and countless singles in between, his music is filled with personal stories and rhythmic beats.
As an independent artist, Chance has full autonomy over his career and creative directions. This freedom was put on full display during his pre-recorded concert that originally aired on Monday, Sept. 14. 
Avid fans of Chance were delighted to watch and experience this concert especially during these uncertain times. For the entire twenty-seven minute performance, Chance was fully himself, allowing viewers to transcend into his world and enjoy the experience of it all. Every transition, key change and dance moves were executed perfectly. 
"I appreciate you guys watching, because it gave me the outlet to be able to perform, which is my favorite, one of my favorite things in the world," Chance said mid-performance. 
Down to the tiny specifics such as the camera angles, his eccentric facial expressions when he was rapping or singing slow and various lighting changes that set the mood for each song, Chance's performance was all calculated. His rawness makes the concert feel personal. Virtual audiences certainly found themselves mesmerized by Chance; dancing, rapping, swaying along from their couches and forgetting reality, myself included.
On his second selection "Work Out," his high-energy and enthusiasm made him stumble on two words. In true Chance form, he smiled through it and continued on. 
Whether you follow the rapper's work or not, anyone who watches his performances or listens to his music can tell immediately that he is passionate about his craft. His animated body language and bursts of dancing further added a nice flare to the performance
It feels like his body is simply a vessel and performing his music is the art.
The small space at the Ralph Lauren flagship store added to the intimacy of the concert. Not to mention his bandmates were very relaxed during the performance. Their random spurts of laughter and watching them get lost in playing their instruments and singing was reveling.
Chance dared to reimagine how the artist and fan can connect at a time where the touring industry is devastated. This concert did not lack any of the charms that a live performance would bring. The energy and devotion he committed to the performance was felt deeply.