Senior co-captains of the women's indoor track team, Emily Manfa and Emma Weisse appeared in the preseason United States Track & Field and Cross Country Coaches Association (USTFCCCA) rankings on Jan 15.
Manfra appeared in two separate rankings.  She started off running the mile and finished in sixth place. Later on she would be third-best in the 3000. Meanwhile, Weisse was ranked 31st out of 35 in the 3000-meter.
Competing wasn't easy for Weisse after coming back from a four-month injury. At the end of training in August, Weisse felt pain in her hip and continued to stress it out.
"It was a progressive injury," said Weisse. "I have bursitis in my hip, a torn labrum and tendinitis in my knee. With lots of rest, cross training and rehab, I'm slowly returning with very low mileage."
Even so, the dynamic duo teamed up as the only Division III athletes to compete at Harvard's Beantown Challenge.
"The biggest challenge of making the rankings is probably maintaining the physical health it requires to run at my full ability," said Manfra. "Distance running, especially after four years, is an extremely demanding sport and I don't think people realize just how difficult it is. Everyone thinks it is easy, but when Emma and I are hitting 70 miles in a week, it's tough."
Junior year, Manfra made Ram nation headlines as the first-ever track & field athlete to garner All-America status. Manfra completed an indoor mile time of 4:57.04.
Weisse, won her section and shaved 30 seconds off her 5000-meter time, finishing the race in 17:54.90.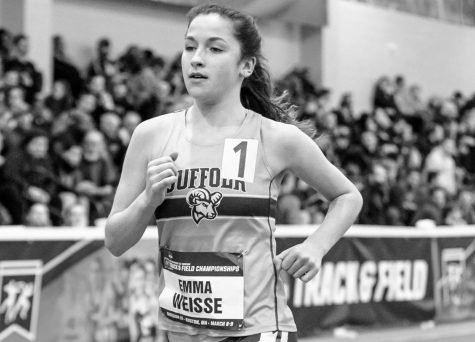 Manfra, from Stoneham, MA, began indoor track her freshman year of high school alongside her sisters.
"I chose Suffolk because I felt comfortable here and I loved being in the city. I started track in Suffolk's first season which was our sophomore year," Manfra said.
Weisse, from Hampden, MA began indoor track her senior year of high school.
"Suffolk didn't have track our freshman year but we've been doing cross-country all four. I definitely didn't come to Suffolk to run, but I am very thankful this is where we ended up," Weisse said.
Manfra and Weisse's sophomore year indoor track had a team of six. Now as co-captains they are leading a team of 20.
"We've both realized that our hard work speaks for itself. If you're a younger team member and see your captains putting in full effort for workouts and practice it sends a message that you should be giving 100% as well," Manfra said. "We like to keep the mood light, running can be very stressful so we try to create a fun environment to alleviate the anxiety."
The duo has been pushing each other since freshman year and know the mental and physical toll running has. As seniors they will run in some of their final races together this year.
"Emma completely understands all of the emotions tied to distance running," said Manfra.
The teams next competition is on February 1st at Tufts and Boston University.