Native American Gyasi Ross promotes activism with poetry
Students of all backgrounds were drawn together to kick off the start of Native American Heritage Month with "Activism Through Spoken Word" on Thursday at an event held by The Center for Student Diversity and Inclusion.
The event featured speaker Gyasi Ross, who is a member of the Blackfeet Nation, Native American Hip Hop artist, author and lawyer. He also co-hosts the weekly podcast "Breakdances With Wolves" on Indigenous Pirate Radio.
Anye Nkimbeng, a junior majoring in business, is the President of Suffolk's new poetry club "Unspoken Feelings," and began the event with a poem of his own before introducing Ross.
Ross prefaced his poems by giving backstory to the history of the Blackfeet nation, and brought up current political issues involving indigenous people. Specifically, Senator Elizabeth Warren's ancestral ties to Native American tribes.
"She did like, the Maury Povich reveal, about her having native ancestry," said Ross. "For Native people, that's a very sensitive topic. Because just like any other community, your identity, who you are, where you come from, is literally the most intimate thing to you."
Ross utilized humor and invocative honesty to tell his stories, and actively engaged the audience with questions and comments regarding their knowledge of current issues about minority communities.
Ross also discussed other cases that have appeared in the media like Rachel Dolezal, a white woman who appeared in the news several years back after claiming to identify as black. To Ross, this is all about playing with identity.
"It's not like Dolezal or Warren or a lot of the other folks who say these claims are doing it for us," said Ross. "They're doing it for them. They don't have our best interests at heart."
When discussing news outlets he has spoken for, he brought up the faults of them to truly tell the stories of indigenous people. Also, the popular movies that they are often shown through, like "Dances With Wolves" or "Little Big Man." These types of films depict a minority group, like Native Americans, in a conflict with others before receiving help from the protagonist, in what Ross refers to as a "white savior narrative." 
"
Just like any other community, your identity, who you are, where you come from, is literally the most intimate thing to you."
— Gyasi Ross
"For Native stories, literally 100 percent of the time, when they go in the public eye, they're actually not native stories," said Ross. "They have to have the anchor, the tether, of a white person, to bring that story into the public light."
After recounting issues he has run into as a Native American, Ross shared some of his poems with the crowd. Several of them are included on his latest spoken word album, "Isskootsik (Before Here Was Here)" which incorporates hip-hop and poetry to share stories of the Makah tribe he belongs to, based out of Washington state.
Poems titled "The Drive" and "What Whale Tastes Like To An Indian" discussed the history of Native American oppression, specifically with hunting, whaling and humanitarian rights.
While discussing the injustices the Makah people and other indigenous tribes have experienced with their lifestyle choices, such as, hunting and eating whale, Ross challenged the beliefs of majority cultures in America.
When asked what whale tastes like, Ross tells non-natives "it tastes like white tears."
"It tastes like indigent white people who are mad about an animal getting killed, but are not mad about black people getting shot by police," said Ross.
Following his poetry readings Ross opened up a Q&A to the crowd, and discussed provocative, meaningful dialogue about where "native life interfaces with mainstream life."
In an interview with The Suffolk Journal, Nkimbeng discussed the impact Ross left on the crowd through the expressive art form he shared.
"Throughout the laughs and giggles he was educating us," said Nkimbeng. "It was like, 'Laugh at my pain but read between the lines and you can hear my story.' That was beautiful."
About the Writer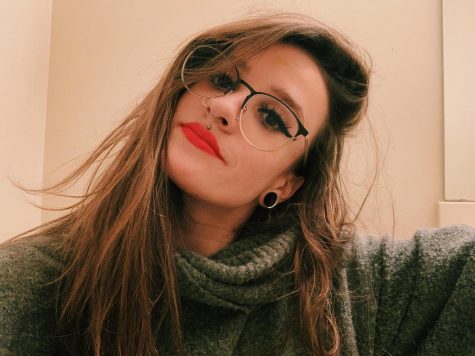 Shayla Manning, Staff Writer | she/her
Shayla Manning is Print Journalism major in her Junior year at Suffolk. She has furthered her passion of writing and reporting through the Suffolk Journal and hopes it will open up even more opportunities in the years to come. An avid lover of music and dance, she spends her time going to as many concerts as her bank account can manage. When she's not spending all her time at Thinking Cup or Clover Food Lab, you can probably find her at a show at Paradise Rock Club. She hopes to continue writing and someday work for a major music publication.
Follow Shayla on Twitter
@shaylamanning37