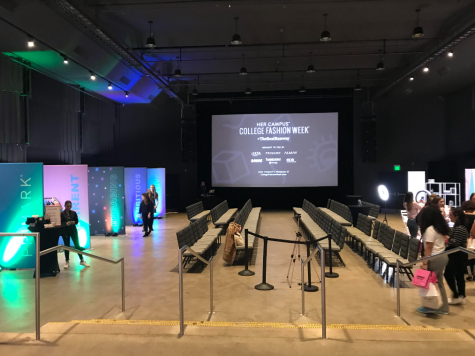 Models strutted down the runway on Saturday evening to highlight the latest fall fashions at the Revere Hotel as part of College Fashion Week.
The event was put on by the online magazine "Her Campus." This year the goal was to showcase real local college women as models and to make the show as diverse as possible by using accessible fashion.
The show was split into three parts featuring all clothes and accessories from Primark. The portions were titled Modern Nomad, Printed Paradise and Power Pose with short breaks in between.
In Modern Nomad the models looked confident on the runway while sporting warm colors and cozy knits. This collection was all about being casual and layering as models wore neutral sweaters and jackets complete with colorful scarves and fluffy hats.
Printed Paradise featured playful prints and nature-inspired looks. Some of the clothing the models wore included jumpsuits, wide-legged pants, dresses, and jean jackets.
The fashion show ended with a call to female empowerment. The Power Pose collection featured an array of retro inspired tees with fun graphics and powerful messages written on them, like "Girl Gang Forever" and "Girl Power" as Beyonce's "Run the World" played in the background. The models even gave their own "power pose" while showcasing the looks which got applause from the audience.
Co-founder and President of "Her Campus" Windsor Western was the emcee for the night. She wanted all college women to feel loved and to feel empowered.
"The future is female and college women are the future," said Western.
Many well-known companies sponsored the event this year, including Ulta Beauty, Sabre, Almay, Eos and Primark.
All of the sponsors had insta-worthy booths and installations at the event. Ulta had a beauty bar and was styling hair and applying makeup for free. Eos had a pit filled with over 40,000 of their egg-shaped lip balms that people could take pictures in. Almay was handing out tasty popsicles and Sabre and Primark had their own photo booths.
Shruti Rajkumar, a freshman at Emerson College, attended the show to feel connected with college women in the area.
"I loved how it catered to women and women empowerment and I think it was a great opportunity and experience," Rajkumar said.
Now in its sixth year, College Fashion Week is an annual event that has shows in Boston and New York City each fall.
Western formed "Her Campus" nine years ago with her friends while they were undergraduates at Harvard University. She said she is grateful for this experience and to be apart of a strong group of fierce women.
"College women are awesome," said Western. "There's nothing more powerful than a motivated college woman."
The line to get in the event wrapped around the Revere Hotel parking garage as college students from the Boston area eagerly waited for the night's festivities, which also included a button making station where participants could pick their own custom designs and a station to make personalized bracelets.
Attendees also received gift bags which included a Primark gift card, Ulta products, Eos lip balms, Almay lip glosses and a Sabre drink test kit.