Boston Fashion Week uses fashion to empower
Although Boston is not known as one of the world's fashion empires like New York or Paris the city is home to an array of talented clothing designers and entrepreneurs. The 24th annual Boston Fashion Week wants to highlight local designers and showcase their unique work throughout the week. "The Power of Women, The Future of Boston Fashion" event took place Sunday evening, on opening night.
Designers Melina Cortes-Nmili, Gina deWolfe, Meghan Doyle, Joelle Fontaine, Graciela Rivas Leslin and Cecile Thieulin each presented a collection of about six pieces. The runway was filled with an eclectic mix of looks, including everything from long, elegant gowns with eye popping prints to casual, denim outfits paired with chic, leather accessories.
The event aimed to show the tough work that often goes unnoticed when creating a collection because most of it happens behind the scenes. Founder and Executive Director of Boston Fashion Week Jay Calderin said on stage that Boston fashion is human, and it is important to know about the people behind the clothing.
"A lot of people have this perception of [fashion] being fluffy and throw away and things like that," said Calderin in an interview with The Journal. "And we wanted to focus on the women and all the teams that work behind it and all that goes into this."
The show demonstrated that these women are well versed in business, too. As their careers progress, both skill sets become vital because they need to know how to market and sell their clothing. Meghan Doyle of Tallulah & Poppy said that she studied both design and business in college so she could understand both aspects.    
Before the collections were revealed, a short film by Nicole O'Connor of Shanachie Studios and Eric Leone of Paul Horton Visuals was shown. The film profiled all the women, giving the audience a closer look at their work space where they find inspiration, how they got started in fashion and how their businesses have grown. A series of 60 photos by Tracy Aiguier were also projected on screen throughout the night to provide additional visual imagery.
"What was most impressive to me were these local, female designers who have set shop up here in Boston and have called this home and we get to watch their art come to life, literally," said Boston City Councilor at Large Annissa Essaibi-George, who also owns the Stitch House sewing shop in Dorchester.
No two collections were alike, but the individuality and personal style of the designers were shone through in every outfit.
"When I first started designing, I didn't look at any magazines, I didn't look at any other designers because I didn't want to be influenced by who they were," said designer Joelle Fontaine in an interview with The Suffolk Journal. "I wanted to be able to have all my ideas come from me."
The event focused on the power of women not only in the fashion industry, but in every aspect of life.
"I think one of the reasons why I was asked to be a part of this was because my brand itself represents the power of a woman," said Fontaine. "So, for me, it's like this all day every day. I'm always representing power of a woman."          
Since styles and creativity are in constant flux, fashion is unpredictable. Over the years, each show has brought something different to the runway, which is one of the reasons why Boston Fashion Week has been able to encompass a variety of themes.
"It's always shifting and changing and that's kind of the nature of fashion, because that's what keeps it exciting," said Calderin. "It's about change, it's about seeing what feels fresh, what feels new, what feels like the person I am today."  
Calderin explained that Boston is a city of innovation and technology, so the future of fashion in the Hub will probably incorporate digital technology, as some designers are doing already. He said that Boston is not looking to compete with other big cities, but it offers something different than other places.
More shows and events are planned for the rest of Boston Fashion Week, which will take place across the city until Oct. 6.
About the Contributor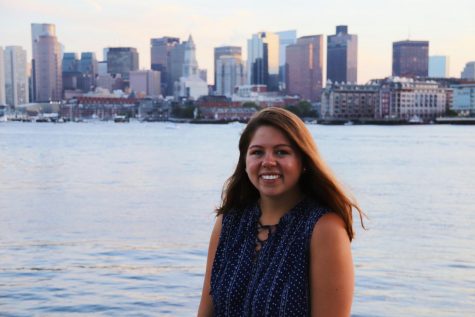 Morgan Hume, Arts Editor | she/her
Morgan is a native of Troy, New York and the Arts and Culture Editor for The Suffolk Journal. She is a rising majoring in print/web journalism and minoring in history. When she isn't scribbling into a notebook, she can be found drowning herself in cups of coffee, singing too loudly in the shower and exploring Boston, the historic city that has quickly become her home.
Follow Morgan on Twitter
@morganmhume