Dance Company prepares for fall showcase "Revival"
Student choreographed work set to be displayed at SUDC's annual fall showcase.
The Suffolk University Dance Company (SUDC) will hold its fall showcase titled "Revival" on Nov. 15 to give viewers the chance to see SUDC's talent and diversity as they showcase six of their routines. The show marks the group's first major show since Suffolk Weekend in October.
The group has performed multiple dance genres and has held versatile performances in the past, many of which are choreographed by the student members themselves.
"Almost all of the choreography are student pieces. The choreographers have been working on them all semester and have put their heart and souls into the dances," said senior marketing major and current SUDC Production Coordinator Michelle Lampert in an interview with The Suffolk Journal.
"We wanted to have variety in the pieces so we have jazz, contemporary and lyrical styles. We have been rehearsing them since September and are super excited to showcase our existing members with our new freshman," said Lampert.
Despite having quality participation and buy-in from existing members and new members, the group struggled when they lost one of their rehearsal studios due to its closing. Losing the studio created problems in the group's practices and their ability to see how routines looked in practice.
The Jeannette Neill Dance Studio, originally on Friend Street in a Boston neighborhood, closed down earlier this year due to skyrocketing rent prices in the area. Home to private dance classes and spacious rehearsal space, the studio also served Suffolk University's multiple dance groups on campus.
"Because the studio we used to dance at for practices closed down this year, it's been difficult to practice without any mirrors. So that's been challenging to adapt to," said senior finance major and dance co-captain Shantel Vigliotta. "But we've been able to go to one or two venues for practice before the show to use mirrors."
Though the group has faced some adversity stemming from the lack of a better practice studio, the dancers have stuck to their preparations and trusted the process, running a two-day a week practice schedule, with three-hour practices on Sunday and Wednesday evenings.
All of the members have been on board and given their best efforts regardless of the lack of a studio produces, according to junior management major and current Secretary Joanna Fenerlis to The Journal.
"I'm so excited to finally be dancing with all of these girls for our first show," said Fenerlis. "All of the veteran members were pretty nervous going into this year because we lost so many seniors last year. But the freshmen that we took on have been so awesome and we all have really come together and meshed as a group."
The venue, the Calderwood Pavilion at 527 Tremont Street, will give the group more space to perform as well as allow for a much larger audience than the Modern Theater at Suffolk. The group will have a larger stage and dressing room as well, according to Vigliotta.
"The venue is great, [there is] a lot more space and amenities we never had with Suffolk's theater," said Vigliotta. "A year ago when we had our show there [at the Suffolk Theater] we had to stop letting people in because there wasn't space."
The SUDC will perform with supplementary performances from Passion Latin, W!cked, Rampage and an outside dance group, according to Lampert.
Tickets are free of charge and can be found through the group's Facebook page. Pre-registration is required.
Leave a Comment
About the Contributor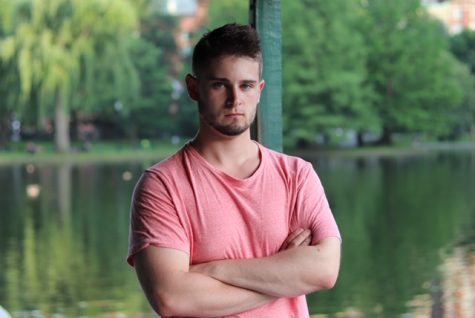 Ryan Arel, Former Senior Staff
Vermont native Ryan Arel is a former Arts Editor and former Opinion Editor for The Suffolk Journal. A print journalism major and economics minor, Ryan aspires to become a versatile writer who can cover any story of any topic that is worth telling.

Passionate about sports, photography, and history, Ryan also hopes to write and research in a way that makes complex issues easier for readers, and himself, to understand.

After leaving Suffolk, he hopes to work in the media field and stay in Boston, but he does not duck away at the idea of maybe traveling someday for work. When he isn't in the office, he can be found scream-typing homework assignments and stories, at the gym, watching "The Office" reruns or The Red Sox, his favorite sports team.

Follow Ryan on Twitter @ryanarel.