In an end of the year celebration of talent and learning, the New England School of Art and Design at Suffolk University (NESAD) displayed work done by foundation studies students. Serving as a week-long exhibit, the walls were splashed with an array of student work that varied in both color and dimension. Hailing from a variety of undergraduate courses, the media used for each piece ranged from painting to photography, and even red solo cups.
For freshman fine arts major Lydia Tourtellotte, this show is a culmination of everything she's learned thus far in her time at NESAD.
"Foundation studies is an intro to the basic concepts of all fine arts and art in general," said Tourtellotte in a recent interview with The Suffolk Journal. "Everything you learn in these classes can be placed into graphic design, architecture and interior design."
The concepts that these students learn ring true for all art majors regardless of their intended area of focus, which is why every student is required to take them, according to Tourtellotte.
Tourtellotte is featured multiple times in the NESAD gallery. Hanging on the walls are a portrait done in a drawing class, two drawings from another drawing class which feature an observational study of still life and a painting from an elective course that was not part of the Foundation Studies program but a requirement for fine arts majors.
"Normally the second semester for foundation art is more kind of experimenting with what you learned first semester so it's a little more open in the studio. Most of this work is from the first half of this semester and everyone was assigned the same projects. For example, the close up still life, we all had to do the same project. We all had to do self portraits and interior spaces," she said.
Tourtellotte said that some students in the foundation studies program did collaborative work within their classes, as well as a collaboration with the Sawyer Business School.
The foundation studies program is part of the crucial formative years for entering art students. Many students are required to take a variety of courses in this program, according to Professor Randal Thurston.
Thurston told a Journal reporter after the exhibit ended that everyone who seeks a Bachelor's degree in fine arts must complete the foundation program. According to Thurston, students in the fine arts, graphic design and interior design tracks spend their first year developing their basic skills that will be needed for future courses that are more geared toward their area of study. Thurston also said that while many foundation students will take the same courses within the program, there are variations in the program that are more specialized for separate degree tracks.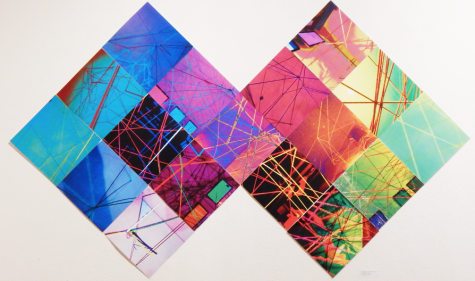 The gallery at 75 Arlington, a building leased by Suffolk University to hold the studios in which NESAD students work and display their art, is set to move into the 6th and 10th floor of the Sawyer building in the near future.
"I actually think [the move] is going to be a very positive thing for NESAD because we're already getting more recognition now that our artwork is being moved over there," said Tourtellotte.  "People are hearing about us more, and I think it's really important to blend us in with the regular campus, because right now we're kind of secluded." Work from some of Tourtellotte's classes has been installed in campus venues like Sawyer, Somerset and the library.
Tourtellotte said that she enjoys studying in the 75 Arlington building because of it's unique architecture and spacious studios, but is looking forward to the transition of NESAD to Sawyer this coming May.
Tourtellotte expressed that the foundation studies program is an excellent segway for beginner art students because it allows students to explore new and different areas of art and figure out where their strengths may lie for the continuation of their degree.
"I think it's important for all foundation students to get that experience," she said.