EPA censorship threatens environment further
In a decision that will have a chilling effect on a major government agency's ability to disseminate information, President Donald Trump instituted "a temporary suspension of all new business activities" on the Environmental Protection Agency (EPA) on Jan. 24, according to CBS News.
This means that the EPA staff are banned from awarding new contracts and grants. According to the EPA website, their mission is to ensure that "all Americans are protected from significant risks to human health and the environment where they live, learn and work." To accomplish this mission, the EPA issued grants to state environmental programs, non-profits, educational institutions and many more organizations. The grants provided the means of education to inform the public of the myriad of environmental issues this country is faced with.
This abrupt ban is a colossal insult to the environmental legacy left by former President Barack Obama who formally entered into the Paris Agreement, an agreement within the United Nations Framework Convention on Climate Change that affirms the important role that ecosystems, biodiversity and land use can play in the reduction of greenhouse gas emissions.
Trump is making it his mission to dismantle eight years worth of progress.
Some Republicans, especially Mitt Romney, traditionally have not supported the EPA, and called it "job-killing and a threat to economic growth." Despite these claims never being supported by evidence, it continues to be a main argument against environmental groups.
However, according to a 2012 report released by the White House's Office of Management and Budget, the EPA can stimulate economic gains. The regulations have brought benefits to the economy that far outweigh their costs. This study said the EPA creates jobs by requiring pollution cleanup and prevention efforts and saves the economy by avoiding pollution's negative health effects. One would think our business-minded president would pay attention to such research.
Despite the stack of evidence that has proved the environmental efforts are economically efficient, and proved climate change is real, Trump has been very outspoken on his belief that climate change is a hoax.
Funding climate research is vital to not only a healthy planet, but also healthy humans. The current status of the earth's climate and a multitude of other problems is a very real and very terrifying concern.
As astrophysicist Neil Degrasse Tyson said, "The good thing about science is that it's true whether or not you believe it."
Last year was the hottest on the historical record and the third consecutive record-breaking year, according to the New York Times. Of the 17 hottest years recorded, 16 of them have occurred since 2000.
Micheal E. Mann, climate scientist at Pennsylvania State University, said about "75 percent of the warmth was due to human impact."
Mann's findings show that climate change caused by humans was not plausible, as the amount of warming in 2016 would have less than one-in-a-million odds of occurring. In addition, the amount of global sea ice reached record low levels in late 2016.
On the other hand, some environmental crises are not a result of greenhouse gases or not using fluorescent light bulbs. Some easily preventable environmental dilemmas are the direct result of city officials being indifferent toward the needs of the community.
When residents of Flint, Mich., began to complain about their tap water in 2014, and said the water looked murky and foamy, city officials repeatedly told them there was nothing to worry about. A few weeks later, the water tested positive for Escherichia Coli Bacteria (E. Coli), and residents were told to boil their water.
On Feb. 26, 2015, the EPA notified the Michigan Department of Environmental Equality (MDEQ) that it detected harmful levels of lead in the water at the home of a Flint resident.
About five months before the EPA stepped in, the General Motors plant in Flint refused to use the water because it was rusting car parts. According to CNN, the city arranged for them to use a different water line, while the residents had to use the contaminated water.
The city of Flint contains more than 98,000 residents, and 41 percent of them live below the poverty line.
The Flint water crisis revealed a very suspicious issue of classism among the city officials. Residents have complained and demanded safe drinking water for months, but when a big company responsible for the growth of Michigan's economy demands better water, they received it, no questions asked.
The EPA gave the residents a voice when the people who were supposed to look out for them would not listen.
The EPA's involvement in the Flint water crisis propelled the effort to get Flint the assistance they desperately needed.
We need organizations like the EPA to continue to have a strong fundraising network.
It is clear that we cannot always trust the people in charge to look out for us and keep our best interests and safety in mind. We need the EPA to represent us with evidence that others refuse to acknowledge.
Cutting this agency's is a death wish for the environment, and for human beings.
Leave a Comment
About the Writer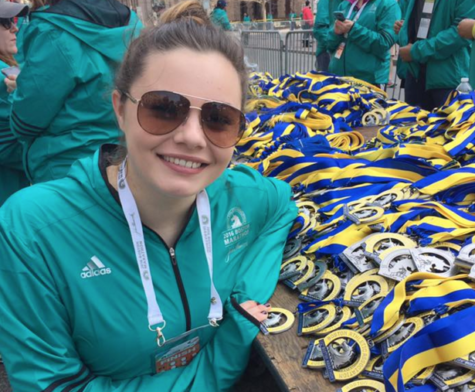 Katie Dugan, Assistant Opinion Editor
Born in Manchester, New Hampshire, Katie Dugan is a recent graduate of 2017 who majored in public relations. She lists among her many non-academic accomplishments successfully raising her pet, a beta fish named Moses and greeting the nations first sunrise on two occasions on top of Cadillac mountain in Maine's Acadia national park. She enjoys running, especially when the race is over and while she lives to explore her adopted city of Boston, just don't ask her for directions to where anything is. Finally, Katie loves the written word and working for The Suffolk Journal and sees the upcoming administration in Washington DC as an unlimited supply of future content for her columns.