Opinion: Biden's victory is a huge step for progressives, but there's still work to be done
President-elect Joseph R. Biden's victory in the 2020 presidential election was a massive step in America turning away from the bigotry and polarization brought on by the Trump administration. 
This election had the highest voter turnout in U.S. history with 148 million people casting votes by mail or in-person — 62% of the voting-age population, according to The Associated Press. Biden made history by surpassing former president Obama's 2008 record number of votes with over 75 million in his favor. 
Despite the obvious relief that Donald Trump—whether he likes it or not—will be leaving office in January, Americans must not become complacent because there is a Democrat in office. 
While there will presumably be significantly less dehumanizing and damaging policies passed during the Biden-Harris administration, pertinent social issues like racial justice, climate change and the wealth gap will not simply go away without the public demanding our politicians are held accountable for their actions and pressuring them to pass legislation that their constituents are in desperate need of.
Many activists on social media were quick to remind people that the social issues we have dealt with during the Trump administration will not go away because Biden was elected. Groups like Black Lives Matter have written directly to the Biden-Harris campaign following their victory to say "the best way to ensure that you remedy past missteps and work towards a more just future for Black people —and by extension all people—is to take your direction from Black grassroots organizers that have been engaged in this work for decades." 
Other active social media users have emphasized this point, especially to their white peers who may not be directly affected by the social issues faced by Black people in the U.S.
A key organization that contributed to Biden's victory was the Settle for Biden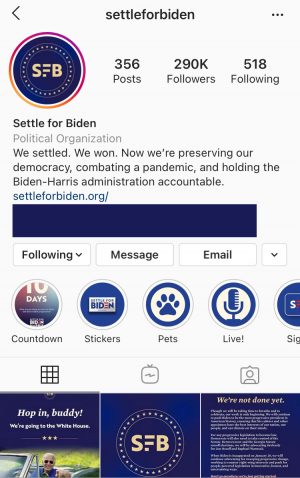 campaign, a 'grassroots group of former Elizabeth Warren and Bernie Sanders supporters who recognize Joe Biden's flaws but know that our nation will not survive four more years of Donald Trump.' 
Their active presence on Instagram and Twitter educated voters on Biden's policy stances and implored progressive voters who didn't favor Biden in the primaries to vote for him as a means of removing the incumbent Trump from office. 'Settle for Biden' became a rallying cry for progressives and self-proclaimed leftists who were united by a deep disdain for Donald Trump and his administration's actions over the past four years.
The Settle for Biden organization plans to hold the Biden-Harris administration accountable throughout their presidency. They will push for progressive policies to create a better America for everyone. 
I know that I will continue to express my thoughts on the Biden-Harris presidency just as much as I did during Trump's. We must hold politicians who were elected by the people to fulfill the promises they made to those who voted for them.
I celebrated along with the rest of Biden's supporters on Nov. 7 when he was declared the winner. His presidency has the potential to be the most progressive and diverse that this country has ever seen. But for that to be the case, we the people must work to make our voices heard by those in power. 
Demands for reform of the criminal justice system should be just as loud as they were when Trump repeatedly ignored them. Containing the COVID-19 pandemic should be the number one priority to save hundreds of thousands of lives and return the United States to a country where people can walk down the street without having to worry about their immunocompromised mother potentially getting sick. LGBTQ+ people and advocates must continue to push for protections against workplace and housing discrimination nationwide. As a nation, we must push to implement climate change policies that will help slow and eventually eliminate the damage being done to our planet.
Biden's victory is the first of many steps in the right direction for America, but our work does not end here. From now until Nov. 5, 2024, Americans should continue to push for the social change that is desperately needed for this country to return from one of its lowest points in history.
Follow Leo on Twitter @leowoods108.
Leave a Comment
About the Contributor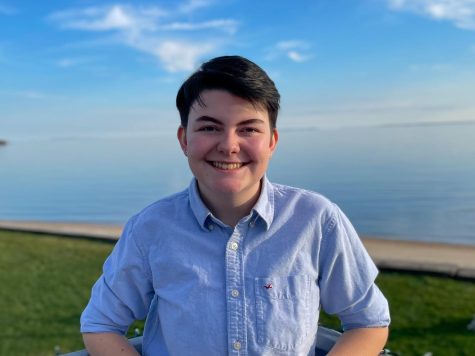 Leo Woods, Photo Editor | he/him
Leo is a senior political science major with a minor in journalism from Clinton, Conn. When he isn't writing for The Journal, you can find him walking around Boston with his camera taking pictures of the city. He is passionate about politics, Mexican food, and Dungeons and Dragons. In the future, he plans on attending law school and permanently moving to Boston.
Follow Leo on Twitter @leowoods108