Steve Sweeney debuts at Suffolk with one-man show, "Townie"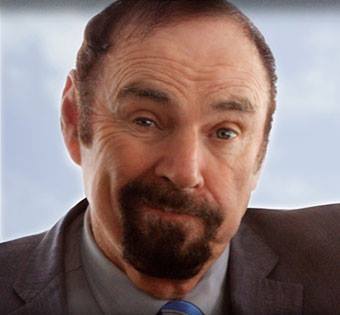 In an infamous chord progression, the Boston-bred Dropkick Murphy's begin their hit "Dirty Water," with a throaty description of their cherished hometown and the river that runs through it. In a sweeping display of well-placed perfection, the group conveys how they appreciate their home. In a similar fashion, comedian Steve Sweeney brought his own kind of appreciation for the city to Suffolk University's Modern Theater stage in the Boston premiere of his one-man show, "Townie."
Sweeney's comedy routine was filled with stories about growing up in the town of Charlestown, one of the oldest neighborhoods in Boston. A projection screen above him displayed images that went along with his stories, like photos of him as a child and behind-the-scenes shots of him on Hollywood movie sets.
In one story, Sweeney pointed at a black and white photo of a patch of grass beside the Bunker Hill monument and said, "That right there was where I had my first sexual encounter. And look, they built a monument!" Members of the crowd rocked back and forth from laughter as the comedian told anecdotes like this about his adolescence.
Sweeney plopped himself in a chair in the center of the stage with his belly hanging over his button-down shirt, to imitate his uncle who liked to watch television while his stomach was in full view. He also crouched down to appear shorter, and talked in a high-pitched voice about how hard and tiring it was to work for the state, to imitate his aunt. Acting out characters made audience members smack their hands together and laugh out loud, as they got a sense of what Sweeney's family was like.
If audience members weren't chuckling, they were nodding their heads in agreement at how much the city of Boston has changed since Sweeney was a kid. His tales of living in "old Boston" as a young boy filled the theater with nostalgia.
"I love Boston, the Boston I remember. The whole thing," he said.
The audience was made up of mostly adults from outside the college community and that's who Sweeney's jokes were geared towards, so not all of the jokes were understood by the younger generation.
"I thought it was directed at a certain age group that I unfortunately wasn't a part of and so due to that I didn't understand all of the jokes necessarily," freshman international economics major Jordan Albrizio said in an interview with The Suffolk Journal after the show.
For the rest of his time on stage, Sweeney moved on to describe his adult life in a question and answer setting moderated by the Head of the History Department, Professor Robert Allison. During this time, Allison and audience members asked Sweeney more questions about his work and private life. The comedian sat close to the edge of the stage and the house lights were turned on, which helped him connect with the crowd.
Sweeney described challenges he has faced in life, like battling drug addiction and that he will soon be 25 years sober. He also explained how he discovered acting and got into the theater industry. For him, acting was a way for him to express his emotions.
"I wasn't used to having emotions… You start acting and you can express your emotions," he said.
Although Sweeney loved acting and telling stories, he also described some of the challenges he didn't anticipate, like learning that his thick Boston accent wasn't attractive to most casting directors.
When asked why Sweeney decided to become a comedian in Boston, he explained that for him, telling jokes was a way to deal with problems in life.
"Comedy and music are a great way to escape; they're a great defense," he said.
The comedian also showed pictures on the projector of his career today. Over the years Sweeney has been in numerous films, so he showed pictures of himself working alongside celebrities such as John Travolta, Jim Carrey and Rodney Dangerfield. It illustrated how a boy from a small town rose to Hollywood success.
Even after moving to Los Angeles for almost a decade and becoming an actor, Sweeney said he still missed Boston because there was no other place that gave him the same sense of community. Sweeney now lives in Boston and is set to take his show on the road again to The Rockwell in Somerville on Thursday, Feb 16.
Leave a Comment
About the Contributor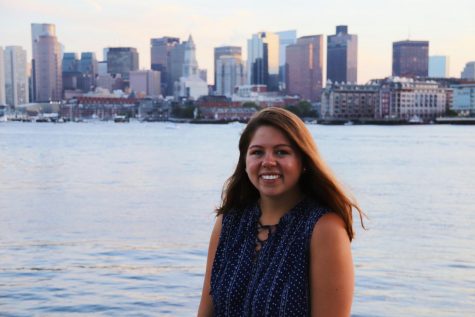 Morgan Hume, Arts Editor | she/her
Morgan is a native of Troy, New York and the Arts and Culture Editor for The Suffolk Journal. She is a rising majoring in print/web journalism and minoring in history. When she isn't scribbling into a notebook, she can be found drowning herself in cups of coffee, singing too loudly in the shower and exploring Boston, the historic city that has quickly become her home.
Follow Morgan on Twitter
@morganmhume