Trump gets to work, signs seven executive orders
Newly inaugurated President Donald Trump has wasted no time after taking the oath of office, signing a variety of game-changing executive orders and presidential memoranda that deal with some of his core promises from the campaign trail.
In his first act as president, Trump signed an executive order to begin laying the groundwork for the full repeal of the Affordable Care Act (ACA), former President Barack Obama's hallmark legislation which fundamentally altered the way healthcare is administered in the United States. While the order, officially titled "Minimizing the Economic Burden of the Patient Protection and Affordable Care Act Pending Repeal," does not immediately alter the ACA, colloquially known as "Obamacare," it allows for the Secretary of Health and Human Services to "waive or delay the implementation of" key provisions of the ACA, according to Politico.
Day one of the Trump administration also brought drastic changes to the way the government operates. Hours after being sworn into office, White House Chief of Staff Reince Priebus said in an official memorandum directed toward federal agency heads that the president had ordered a federal regulatory freeze. The order, issued in the form of a Presidential memorandum, directs all federal agencies to cease the implementation of new regulations "until a department or agency head" appointed by Trump is able to review them, according to the White House website. The memorandum also directed agency heads to "immediately withdraw" all submitted regulations from consideration.
Throughout the beginning of his first week in office, Trump also signed an executive order to hasten review of high-priority infrastructure projects. The move likely set the stage for construction on the pipelines to restart. Both are opposed by many environmental and Native American activist groups due to the risks the pipelines pose to the environment and Native American sovereignty. Keystone XL's builder TransCanada announced it would re-apply following Trump's executive order. Another executive order will expedite the environmental review of large infrastructure projects, according to the Washington Post.
In addition, Trump ordered many science-related agencies, including the National Aeronautic and Space Administration and Environmental Protection Agency to cease all social media activity in what critics called a "social media blackout." In response, so-called 'rogue Twitter accounts' sprang up, representing a defiance of what some see as a restriction on freedom of speech.
Five days into his presidency, Trump began to tackle his own hallmark issue: immigration. On Jan. 25, the President signed a series of executive orders directing the Department of Homeland Security to use existing funds to begin construction of a wall along the U.S. southern border with Mexico, a centerpiece of his campaign promises.
On Friday, Trump signed Executive Order 13770, titled "Protecting the Nation from Foreign Terrorist Entry into the U.S." The order suspends the U.S. Refugee Admissions Program for 120 days, with the door left open for Trump to extend it as he sees fit. It also suspends entry of citizens of seven countries – Libya, Sudan, Somalia, Syria, Iran, Iraq and Yemen for 90 days.
The New York Times reported shortly after the order went into effect that non-citizen students and green card holders returning to the U.S. were being stopped at airports. Bloomberg reported as many as 60 green card holders and others with valid visas being detained at Dulles International Airport, a few miles outside the nation's capitol.
Amid nationwide protests, District Judge Ann Donnelly of New York ruled on a case brought against the government by the American Civil Liberties Union on behalf of several Iraqis stranded at New York's John F. Kennedy International Airport around 9 p.m. on Saturday. The decision, in which Donnelly implied the detainees' constitutional rights were most likely violated but refused to rule on the constitutionality of the order, means some one to two hundred immigrants and refugees in transit or currently stuck at U.S. airports could not be deported.
On Monday, Trump reorganized the National Security Council's (NSC) Principals Committee (PC), placing White House advisor Steve Bannon on the PC while removing the position reserved for the Director of National Intelligence (DNI). The NSC is tasked with handling the nation's most critical and top-secret national security operations. According to official White House press releases, the Chairman of the Joint Chiefs of Staff and DNI will only sit on the PC "as and when matters pertaining to them arise."
On Monday, acting Attorney General Sally Yates was fired for "refusing to follow a lawful order," according to the White House. Yates told Justice Department lawyers not to defend the Executive Order against lawsuits, essentially rendering it unenforceable, just hours before her firing. Yates was notified via letter of her dismissal.
In a statement released via email to members of the Suffolk community on Sunday, Acting President Marisa Kelly said that while the university is watching the situation closely, no Suffolk students have had any issues returning to the U.S. as of late.
"I want to assure members of our community that the leadership of Suffolk University supports you all," said Kelly in the email. "Suffolk is a diverse, inclusive, and global institution, and we put the highest value on welcoming individuals from all over the world."
Alyna Khan, a freshman majoring in sports marketing, went home for the weekend to see her grandparents off on a trip to the Middle East.
"My grandparents were raised in Pakistan. They're Canadian citizens, but they're going back to Pakistan. If they don't let them back into this country, I don't know what I'd do. They're green card holders. They're concerned he'll add Pakistan to the list. All their healthcare, money, everything is over here."
Leave a Comment
About the Writer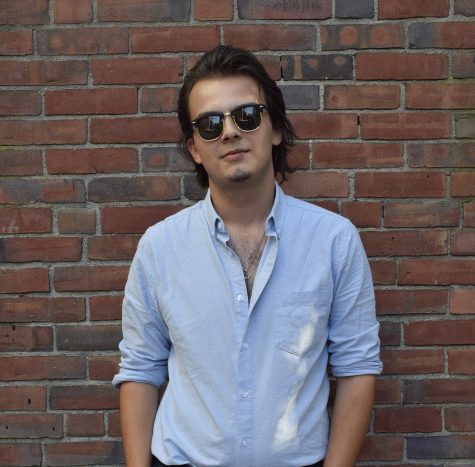 Nick Viveiros, Senior Staff Writer
Nick Viveiros is a senior majoring in Politics, Philosophy & Economics and Journalism. Born and raised in Fall River, MA, he began writing for the Journal in the fall of 2016.
Nick published his first book, the poetry collection this new world, during his first semester of college. His second book, Love Across the Zodiac, was released through his company, Quequechan Press, in mid 2019.
Follow Nick on Twitter @thenickviveiros 
or head on over to his website, nickviveiros.org