Manhattanhenge creates laid-back beats on campus
Jake Rivers and Ben Rathman discovered their love for music in high school. Now, in the basement of the 150 Tremont building, you can hear them nurture that passion, even though the two attend different colleges and have the typical hectic schedules of collegiate scholars.
Rivers, a freshman majoring in Spanish and paralegal studies, met Rathman, a sophomore at Emerson College, while the two were visiting the Dominican Republic on a school trip. Their love for the same kind of music inspired them to play together and even pushed Rathman to learn how to play guitar.
Their band Manhattanhenge, started in their home state, New Hampshire. Manhattanhenge has a very laid back melody. Though their sound is similar to that of reggae bands, Rivers said they are inspired by all kinds of music, even pop.
The tone of their work reflects the personalities of both Rivers and Rathman. The musicians, who are both calm and easygoing, reflect their laid back demeanors in their songs, "Trophies" and "Daybreak," both of which are mellow and low energy.
"Our parents really drowned us in classic rock and old stuff and then later on I got into more alternative music … And later on after that I got into jazz music which comes through in our music a lot," said Rivers.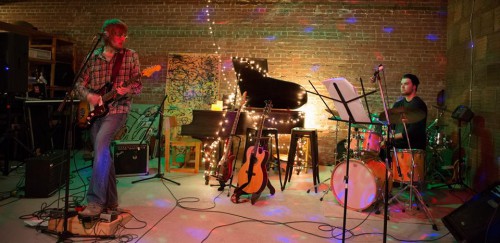 Right now, the duo records different instruments into an audio interface. Rivers usually plays the drums while Rathman is the vocalist. The small group is searching for new members to expand their sound and repertoire.
They usually play in art studios and their following mostly consists of family and friends. During the break, the two played in a venue in their hometown called The Loading Dock. It was the first time in a while that Manhattanhenge played in a traditional music venue, Rivers and Rathman said.
Their music is created in their jam sessions and both Rivers and Rathman try not to force writing their music because they feel spontaneity is what helps them produce their best work. Individually, Rivers and Rathman compose elements they believe could create a new song and eventually their finished piece is a collaboration of both of their work intertwined.
"We both bring guitar parts to each other and if we have a guitar chord progression that we really like and we want to play in our project … Ben writes the lyrics and I write the drum parts," Rivers said. "It's spontaneous, once in a while we'll sit down and say 'let's write a new song' but we don't like to force it."
However, creating music can't be all Rivers focuses on since he goes to school full-time. As treasurer of Suffolk contemporary music ensemble, Rhythm, Rivers is also planning on joining the Spanish club and Democrats club to get more involved in the Suffolk community and student life.
Both Rivers and Rathman wish they could devote 100 percent of their time to music, but they both acknowledge that getting their degree is also important. Their love for the art is strong and they can find time to devote to their music despite their busy schedules.
Recently, Allston Pudding, a collective music blog written by musicians and fans, has contacted the duo, shared Rivers. The pair hope that with this recent development and their passion of music could open more doors for them in Boston to pursue their dreams in the music industry.
Leave a Comment