As Front-man Stuart Murdoch begins to sing coolly on the opening track, "Nobody's Empire" of Belle and Sebastian's ninth studio album, "Girls in Peacetime Want to Dance," it is evident that the band has served up yet another irresistible album.
Their signature, quirky indie-rock sound that has carried them since their formation in Glasgow, Scotland in 1996 is instantly recognizable throughout all 12 tracks of the album, which was released on Jan. 29.
The track that is the most reminiscent of Belle and Sebastian's early years is, "Allie." This familiar sound will undoubtedly be a favorite for loyal listeners that have been with the band since its humble beginnings.
However, this is also an upbeat, rock-oriented song that can also be enjoyed by new listeners and give a veracious flavor of the band's early 2000's style.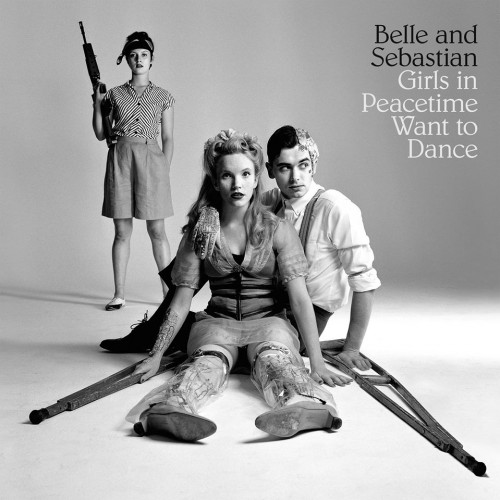 "Enter Sylvia Plath" is the standout track on the album, immediately starting with an upbeat, synthesized melody that carries throughout. The song is a near perfect combination of upbeat and eerie as Martin raspily sings, "Boy, if we were to be friends, subtle is the art required to draw the evil from this lonely pile."
Although "Girls in Peacetime Want to Dance," remains consistent with the style that Belle and Sebastian have maintained throughout the years, it is in no way stale — it has simply been revamped to embody a slightly more electronic vibe. Their attempt to experiment with this new style is victorious.
This new sound is most apparent on the track, "Play for Today," a song that you cannot help but groove to as vocalist Sarah Martin sings out powerful lyrics, "Life is a rope, death is a myth, love is a fraud, it's misunderstood. Work is a sentence, family's a drag, this house is a trap."
In addition to mastering their new sound, Belle and Sebastian also showcase their knack for telling unique and detailed stories through lyrics. One of many examples of this can be found on the track, "The Cat With The Cream," where Murdoch sings out, "Sitting at the old kitchen table, mother's up the stairs with her aging new boyfriend, Cathy's staying in to make sure nothing happens."
Although this is the mellowest track on the album, next to "Today (This Army's For Peace)," the record has its fair share of party tracks.
"The Party Line" is just one of those tracks that will leave you itching to dance. The song, which was the album's first single, fades in slowly and reserved, but almost instantaneously transforms into a catchy, cool melody layered with the moody voices of both Murdoch and Martin.
"Perfect Couples" is another dance track, although its sound is far more relaxed than "The Party Line."  The song takes about a minute to get going, but eventually develops a well-paced rhythm that is easy to move to.
Similarly, "Ever Had a Little Faith?" has the same familiar sound that delivers another hearty dose of the band's familiar sound.
Belle and Sebastian will be kicking off their U.S. tour at the House of Blues on March 30.