Emergency Manager focuses on students amid snowstorms
Following the recent barrage of winter storms that piled dozens of inches of snow onto the metro Boston area and caused multiple school closures, Suffolk University's Emergency Manager John DeSilva stressed the university's main concern is to keep students and faculty safe during any type of emergency.
After working as a fire chief for Amherst and Sanbornton, New Hampshire for nine years, DeSilva began at Suffolk as part of the Environmental Health and Safety Office, dealing with issues such as the shipment of hazardous waste and lab inspections.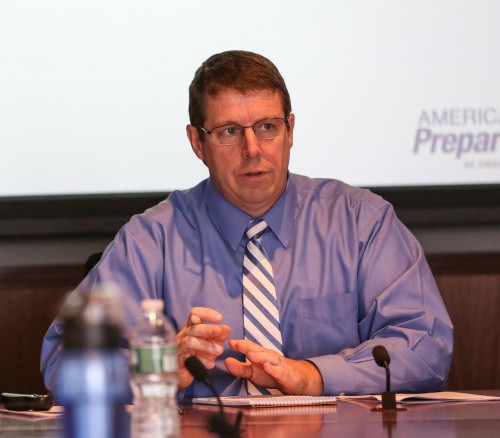 DeSilva has been the university's Emergency Manager since the position was created two years ago.
"My job is to make sure the university is prepared for emergencies and events, and to respond to them appropriately, handle them, and recover from them," said DeSilva.
He compared Suffolk to the Boston Symphony Orchestra, and described that he acts as ringleader among the university's many departments.
"Think of the BSO: they sound great, but you still need a conductor to get everybody to operate in harmony," he said. "And that's a lot of what I do as emergency manager, coordinate all the different departments university-wide."
Much of DeSilva's position is about planning. He meets with a team of representatives from many of the university's departments once a month to ensure that emergency plans are firmly in place.
"There's 15 of us on the team, and they're the ones who really get together with myself whenever we have a large-scale event to handle and make sure we recover from it," he said.
Looking back at Winter Storm Juno, DeSilva said he met with Chief of Suffolk University Police Chip Coletta, Risk Manager Karen Kruppa, and Director of Facilities Operations Jim Wallace to discuss closing the university, and gave a recommendation to Senior Vice President for Finance and Administration and Treasurer Danielle Manning, who then made a decision on behalf of President Norman Smith on whether or not to operate as normal.
DeSilva said student safety has always been the ultimate goal when deciding closures.
"Our primary concern is safety. We don't want people to come to campus, being such a large commuter population, and potentially get injured on the way here," he said.
Suffolk's considerable number of commuters certainly plays a large part in the decision to close down the university during a snowstorm emergency. According to DeSilva, 73 percent of Suffolk students live in a community with an MBTA stop, and that issues with the MBTA play a major role in whether or not Suffolk can hold school.
The MBTA's influence on closures at Suffolk was evident during the earlier part of this week. DeSilva said that after shutting down on Monday due to another snowstorm, the university's fate for Tuesday was ultimately decided by the MBTA.
"We were expecting maybe a delay," he said. "Then all of a sudden the T shut down all day, and when you're a commuter school that ties your hands right there."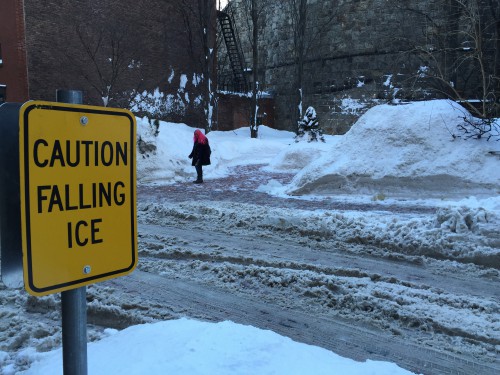 DeSilva said that the biggest emergency he has dealt with so far during his time at Suffolk was the Boston Marathon bombings.
"The initial exclusion zone that the FBI and Boston Police Department set up went right up to the building that NESAD is in, so there was a lot we dealt with that day," he said. "That was by far the biggest event that impacted us."
DeSilva said that he thinks of his own college-aged daughter when dealing with emergency situations.
"I look at all these college students as the sons and daughters of somebody, and I take a very serious responsibility of protecting the students as well as the staff and faculty here," he said. "We can rebuild a building. We can't rebuild people."
According to DeSilva, students respond well during emergency situations, something he appreciates.
"When I go out and talk to the students, I get very positive feedback," he said. "I find overall the students are very engaged. They respond well to the directions and the requests that we make of them."
Overall, DeSilva said that he looks to keep all students and employees of Suffolk safe and that he believes the best way to do so is to keep everyone well-informed.
"Emergency preparedness is all about information and communicating. We need people to have the mindset of knowing where they can go to get information," he said. "When we ask you to do something, we're doing it to keep you safe."
Suffolk University's Emergency Plan can be found on the Emergency Preparedness section of the university's website.