Scottish writer Margot Livesey speaks at Poetry Center
On Thursday, the English Department invited Margot Livesey, a Scottish fiction writer, to read a few pages from her latest book, The Flight of Gemma Hardy. The story spins a modern retelling of the classic Charlotte Brontë novel, Jane Eyre.
Wyatt Bonikowski, an associate professor in the English department, was responsible for bringing Livesey inside the poetry center of the Sawyer Library to discuss her newest literary creation. Bonikowski teaches Jane Eyre in his Gothic Literature class and who better to invite to speak than someone who has studied and retold the story in their own words?
"It made me want to talk to her about the idea of retelling a story and talk to students about them," said Bonikowski. "Just thinking of a writer who works in that way and it would be interesting for students to learn how to work in that way."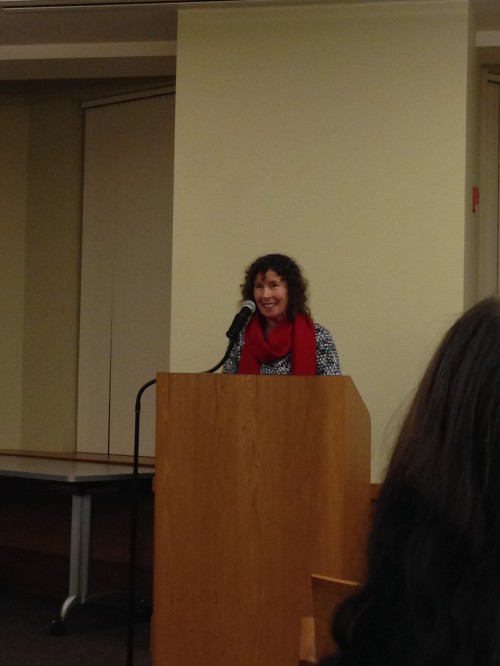 For Livesey, the choice was simple since she believes that Bonikowski wrote her a "persuasive" letter to come and speak to his students.
The event hosted about a dozen professors and students, and began with Bonikowski introducing Livesey and offering his appreciation for her to take time off to speak at the university as well as to comment on the works of a few of his students.
When Livesey took the podium, she began by giving a brief history of the Brontë sisters. She discussed how their lives had been driven by literature since their childhood. At night, they were not allowed to play with candles so they would often walk around a table and share tales with each other.
She also talked about how the Brontë sisters all wanted to use literature as a means to make a living. Charlotte had her first novel, The Professor, rejected by publishers while her sisters were published almost immediately. She then decided to retell the story by making the female character the main character, resulting in what would become one her most successful works, Jane Eyre.
Livesey then divulged into a discussion on her book and began by discussing how the first chapter actually pays homage and shows gratitude to Jane Eyre, while the second chapter was written to appeal specifically to those who are familiar with Jane Eyre but could also be appreciated by those who have never read it.
After the reading, Livesey gave some information why she chose to retell Jane Eyre over other novels.
Livesey, who kept the book a secret from her publishers for much of the time she was writing it, said she has been interested in writing her own take on Jane Eyre since she was 9 years old.
From a young age, she noticed that people had very passionate opinions about the book and that it had made an impression on a vast array of readers. She wanted to see Jane Eyre set in a time that was different from the original yet she discovered that one of the biggest challenges of writing it was trying to find equivalence or analogs to the dilemmas the characters faced in a modern setting.
Livesey has written several novels and short stories, is a distinguished writer in residence at Emerson College and currently resides in Cambridge.
Leave a Comment