As incoming freshman and orientation leaders fill the Miller Residence Hall and orientation sessions begin, one student group has been working to put on a show for Suffolk's summer community. Acting Out, Suffolk's peer education theatre group, has been rehearsing for the past several weeks to perform skits that incite laughter and give advice as the cast takes incoming students through a "typical Thursday night" and other real life situations that students may encounter during their first year of college.
The group aims to not only introduce new students to some of the programs that the Performing Arts Office directs, but to also give them useful tips, based on real life experiences, about the best way to handle situations they may soon encounter.
Kristin Baker, the director of the PAO and Acting Out has written many of the skits, but left some writing to cast members who wrote independently or co-wrote skits and monologues with Baker to contribute real life perspectives to situations that the incoming students will see. Cast members are also invited to perform original monologues that they feel can add to the skits and help educate their peers.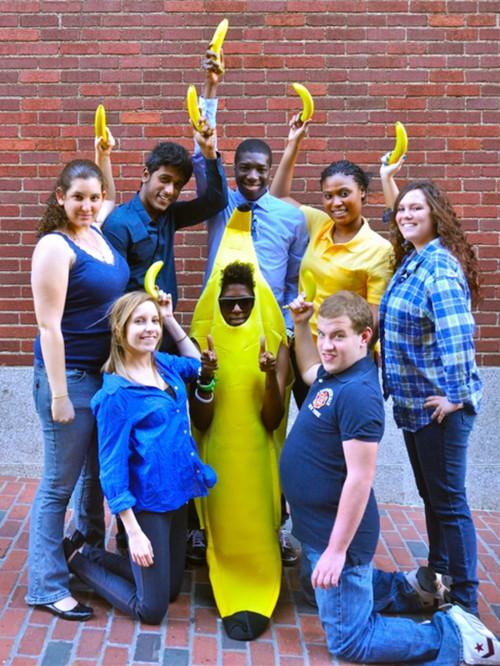 "You get a lot of information thrown at you by professors, SUPD, and the finance department, but Acting Out is by students," said Julia Lorello, a sophomore cast member. "It's some facts, but more than anything it's us sharing our very real experiences."
Although Acting Out is coordinated by the PAO, Baker and the entire cast work closely with several other offices on campus such as Diversity Services, the dean of students, and the Health and Wellness Center to ensure that a whole range of topics, from sexual wellness to alcohol and drug use, are covered in the best way for students.
This year's cast features six undergraduate students, although the PAO invites students from all majors and academic levels, including graduate students and faculty, to audition for the program. Acting Out also requires no previous on stage experience. "It's such a great way to get started at performing. For a lot of people it's their first time on stage and we think it's great," said Baker.
In addition to welcoming new cast members, Acting Out will be introducing several new skits and for the first time, will be inviting the parents of incoming students to stay and watch the performance. The hope with this is to "spark whole new conversations," said Baker.
"We want the students to be open, honest and aware that college will be a big shift and they might be faced with things they've never had to deal with before and that's okay," said Amy Kerr, a junior cast member. "There are resources on campus and things you can do for yourself to make sure you're having the best experience while here at Suffolk."
Along with inviting parents to take part in the experience, Acting Out will also bring back an interactive skit, an approach that was introduced last summer, where students can use their smartphones to text in answers to how students should respond to different real life scenarios, which the cast will then act out on stage.
Currently, Acting Out is strictly a summer program, where the cast is assembled only for performances during the June and August new student orientations. Although there are no formal plans in the works, Baker said, "I would love to see Acting Out grow into a yearlong troop, although I think that would require more student leadership."