Jessimae Peluso of MTV's Girl Code humors at C. Walsh Theatre
"Is she like a legit comedian," asked a random student while waiting in line outside the C. Walsh Theatre Tuesday evening.
"This is the biggest turnout I've seen since Bill Murray," said another.
Jessimae Peluso was the comedian in question, and she performed on April Fool's Day as part of Program Council's comedy week. Although she's been doing standup for 10 years, she established a following in New York City by performing at different venues. She has worked on Tru TV's "All Worked Up," "The Tyra Banks Show," has contributed to the Huffington Post, and most notably, has lent her comedic insight on MTV's Girl Code – a show that brings female and male comedians together to talk about the secrets that women do and don't share with men. Her humor can best be described as no holds barred. She is absolutely honest about the "girl code" throughout her standup act.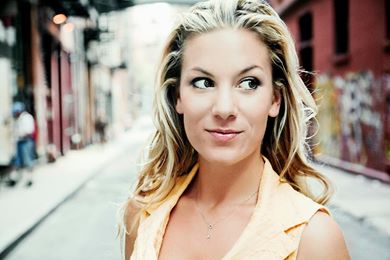 The Syracuse native, and formerly of Boston, Bedford-Stuyvesant, and Harlem, made statements such as,  "I didn't go to college because I don't see the point of it when Google exists," and [on Miley Cyrus] "Did Billy Ray love her not enough or too much?"
She also gave tips on how to put a guy in the friend zone. "Just fart on him. That's how you can tell if he really likes you, too."
Peluso mentioned her favorite comedian, Joan Rivers, because of her ability to be funny "in every decade of her life." Although she spoke about her support for other female comedians, she doesn't want to be compared to Jenna Marbles.
"I respect anyone who can make it in this industry, but I've been doing this for 10 years. That bitch can't handle me on stage!"
Before the show, Freshman Eleni Hatzidis said, "I decided to come to the show because I'm a big fan of Girl Code. I'm surprised at the turnout, but I came prepared and early to see it!"
During the packed show, everyone was howling with laughter. Student Carly Fitz said, "She is so much fun!"
For those wondering how she was able to become successful enough to earn a spot on MTV's Girl Code, Peluso said that 10 years of failure have helped her. And, being unafraid to fail after not performing well in front of people has also helped.
"Once I stopped feeling the pressure to be funny, I became funnier," she said.
Sketchual Misconduct opened up the show with their skits involving a man getting through a divorce by building a time machine, and a "lovesick" man who in fact loved more than one woman, along with a goat and a man named Pablo, and more.
Program Council's Comedy Week is from March 26 until April 6.
Leave a Comment