Vibrant colors and mixed media bathe the white walls of the Henry and Louis Foster Gallery of the Museum of Fine Arts in vigor and energy as they debut the MFA's newest exhibit, "Permission To Be Global/Prácticas Globales."
The gallery exhibits contemporary art from the Caribbean and South America from the 1960's to the present; this is the first exhibit of Latin American contemporary art showcased in New England. With 60 pieces ranging from paintings and sculptures, to video and installation pieces, there is something for everyone to enjoy on display.
The pieces in the exhibit originate from South America, but they were purchased by Ella Fontanals-Cisneros for her private collection in Miami, Fla. She is the founder of the CIFO Art Foundation, also in Miami. The exhibit is loosely divided into four sections- Power Parodied, Borders Redefined, Occupied Geometries, and Absence Accumulated – to represent the different themes that the artists portray in their work.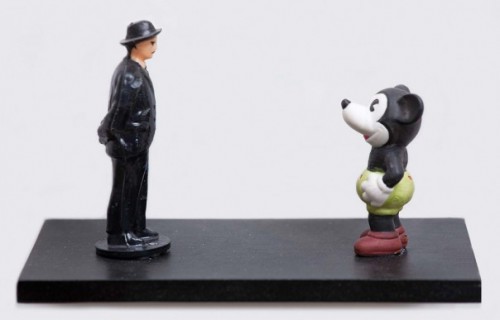 What makes the exhibit even more interesting are the installation pieces that are scattered throughout the room. From Ornesto Neto's "O Tempo Noco" to Jose Damasceno's "Durante o Caminho." The pieces the visitors observe are presented in a non-traditional manner, either hanging from the ceiling or standing freely in the center of the room.
One artist, Liliana Porter of Argentina, has an installation piece on display as well as several other pieces in the gallery, one  of which is Dialogue With Him, a mixed media piece.
"It's a dialogue between two totally different characters you can tell that they are talking to each other and I like that," said Porter.
Along with creating her own pieces, Porter also teaches art.
"In my art, I always do what I feel is natural always told my students, if it's true, it's good."
In addition to installation and mixed media exhibits, the gallery also showcases several film pieces. They range from two to 40 minutes, displaying a wide range of subjects from spinning tops to self-portraits.
One video was off in its own section of the gallery with the lights off while the film was projected onto a table in the center of the room. The piece by Oscar Munoz mimics a person working in a dark room. Munoz's intention was for his viewers to contemplate "How does personal and collective memory differ from 'official history' or from the stories told by mass media? Whose voices are included, and whose are excluded?"
The gallery at the Museum of Fine Arts holds timeless pieces that exemplify the emotions of the people that created them and that feeling resonates with each viewer. The exhibit is best put into words by co-curator Jen Mergel, "This is not a general overview or survey, this is an exhibition with teeth."