Sodexo is one of the nation's largest food services suppliers, catering to thousands of businesses and many universities, including Suffolk University. At Suffolk, Sodexo recipes and food are in all the dinning halls on campus.  But despite its dominance, and a new menu designed to improve the availability of healthy food choices at, it still has numerous critics among students.
The main concerns from students on the dining halls appear to focus on the lack of variety of food available, lack of options for vegetarians, as well as taste and quality of the food.
"The food options are very low," said freshman Nicaela Samson said. "I feel like they just alternate a few plates every week."
Sodexo Assistant Manager Francisco Lara at the 150 Tremont cafeteria assures that the company takes health as well as other concerns from students seriously.
"We definitely pay attention to students and what they like," Lara insisted. "We have a special program for health to create a balanced diet and try to incorporate that as much as possible."
As an example of this, Sodexo officials said that this spring it has incorporated two new programs that will increase the variety of food weekly as well as add healthier options. Lara said this is in response to "many issues" Sodexo noticed from student feedback.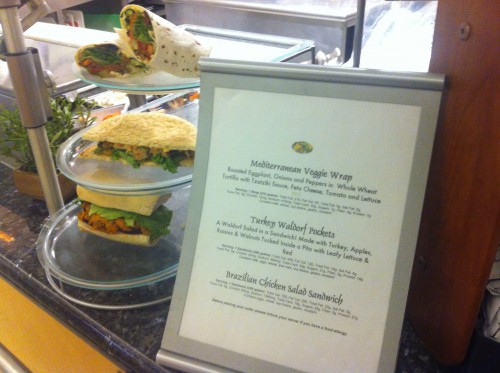 Still, Suffolk freshman Anchal Vasandani, who visits the cafeteria at 150 Tremont on a daily basis, said her choices as a vegetarian are lower in variety and less in quality than those offered for other students.
"My options are always very small," Vasandani said. "I think they try to offer a vegetarian option daily, but it's almost always pasta or just a salad. I'm sure they consider us, but they don't make a big effort."
The cafeteria in Miller residence hall also appears to be causing similar concerns among students. Samson reports that a lack of variety is a problem for all students, but particularly vegetarians.
"My roommate is vegetarian, and she literally eats the same thing every day," she said. "It's always either a veggie burger or a wrap."
Some students offer a more positive opinion on Sodexo meals, but still have criticisms for the food provider.
Sophomore Josh Willis said, "the pizza is awesome. Especially the buffalo chicken one." However, he clarified that his opinion on the pizza does not apply for all the plates Sodexo serves on campus.
"The food is generally a hit or miss," he said.
Based on such feedback, Sodexo has begun to take into consideration the nutrition and health facts behind its food in an effort they are calling "Mindful," which is being  implemented across all the cafeterias on campus.
"With Mindful, we are now ordering fresh fruit and vegetables," Lara said. "We don't order these products frozen anymore, and we also order them daily. Students may notice that we have delivery trucks outside of our door every morning with fresh merchandise."
A map is available in each cafeteria displaying the local farms from which some fruit and vegetables come from around Massachusetts. Mindful also offers more choices for vegan or vegetarian students, with signs that are changed daily displaying the options.
Sodexo promises that this is an "approach that focuses on transparency of ingredients, delicious food, satisfying portions and clarity in message so that making 'mindful' choices becomes second nature," according to its website.
Another program called "Close to Home" introduced by Sodexo this semester has added hundreds of new recipes from around the world to the menu. Because Suffolk has a large international student population, Sodexo will give these students the opportunity to have "homestyle" dishes from their home countries, Lara said.
The company's website said it is "keeping it close to home in all aspects … giving traditional comfort foods a culinary twist. [It is] providing you an experience that's reminiscent of home for when you're away from home."
The program alternates between continents and changes periodically. So far, they have covered North and South America.
Suffolk freshman Jenny Kim said that she has noticed the changes.
"I think there has been a big improvement in the quality of the food from last semester for now," Kim said. She also commented that Sodexo is a good supporter of on campus clubs and events, saying that every time any of the organizations she is in needs someone to cater, the Sodexo staff is easy to work with.
Lara said that the company  is frequently making changes to improve its business, both locally and abroad. Other recent changes have included mandatory signs displaying all ingredients and nutrition facts of all food served in the halls. Social media has also been set up to facilitate communication between the Sodexo staff and students.
"We are always looking for feedback from our products," Lara said. "We meet with the RAs at the beginning of every year to talk about how we can make our food better. Since they live on campus and they talk to students often, we take their suggestions to improve. Every location also has comment cards that students and staff can fill out, and we keep up with our Twitter and Facebook."
Lara advised students to keep up with Suffolk's dining services on social media. To follow Sodexo, tweet @SUDining, or go on Facebook.