New dining spot visits Greek roots, Beacon Street welcomes Piperi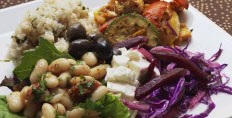 Are you a fan of falafel? Maybe you have never tried it but are an adventurous eater, or just looking to shake things up. If any of these apply to you, then the new Mediterranean cuisine restaurant called Piperi is the right place! Located on Tremont St. right between One Beacon and Government Center Plaza, the month-old establishment boasts a variety of menu items including Gozi (flatbread) sandwiches, and, of course, classic falafel.
The establishment is co-owned by Suffolk alumn Tim Oliveri and head chef Thomas John. The two met when Oliveri was CFO of Au bon Pain and John was the head chef within the organization. They decided to go into business together, starting a Mediterranean themed restaurant.
"It's one of my favorite cuisines," said John. "We looked at the trend of healthy eating and how people value fresh food, we thought that this would be a viable business opportunity.  The name itself is the Greek word for pepper."
Piperi uses fresh ingredients for all of their dishes and offers a variety of toppings for their flatbread sandwiches, including feta cheese, olives, hummus, and a choice of three different sauces (yogurt cucumber, tahini, and spicy tomato.)  The bread for their sandwiches, called Gozi, is John's take on traditional Gozleme bread from Turkey and is made fresh each day from the restaurant's own dough.
Just as good as the food at Piperi is the service. Oliveri is frequently present at the restaurant to greet his patrons, and the staff prides themselves on professionalism and service. Both Oliveri's and John's passion for making and serving great food is prevalent, and both are grateful for the opportunity to serve Suffolk students on a regular basis. As a Suffolk alumn, Oliveri is excited for the chance to give back to his old campus and serve the local students great food. They also proudly accept the university Ram Card.
Suffolk students should waste no time in getting over to Piperi and trying the excellent food. Each day this week, from 2-6 p.m., Piperi is offering free falafel plates to Suffolk students. Just walk in, show your school ID, and Tim or one of the staff members will serve you up a free falafel plate, which also includes Gozi bread and fresh greens.
"It's something to offer to the students so that they can get to know us and see what else we offer," John said of the promotional deal.
Piperi is a great new restaurant, a break from same old mundane college food. With reasonable prices and delicious, filling, and healthy food, Suffolk students should make the restaurant a regular destination for lunch and dinner. The professionalism and passion of Oliveri, John, and the staff are only an added bonus to the great food you will find at this establishment.
"We want to be known for great food and great service," John says.
It is clear that they succeed at both, and Piperi may become a hot spot around campus for many years to come.
View Comments (6)