career summit aims to alleviate anxiety about students future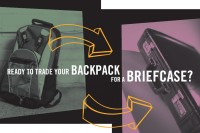 With graduation inching closer each day for seniors, Suffolk's third annual Senior Career Summit, being held this Friday, is ready to help graduating students kick off their job search and teach attendees how to properly market themselves in order to be successful in their futures.
"It's a kickoff for our graduating seniors to get them in job-search mode," said Paul Tanklefsky, the director of career services and cooperative education at the university. "It can take three to six months to find a job, and four months from [the day of the summit] brings you to June 1."
The Summit started in 2010, after the unemployment rate in Massachusetts broke over nine percent, in order to really prepare soon-to-be graduates for what was ahead.
"It's our goal that each student will leave the event a more knowledgeable and savvier job seeker," said Tanklefsky in a release.  "In this job market, you need to be informed about key job hunting strategies and empowered to action."
During the three-hour Summit, numerous speakers will address those who attend, including  Jim Klocke, the executive vice president of the Greater Boston Chamber of Commerce, Andrew Graff, CEO of Allen & Gerritsen who will present on personal branding, and a panel of employers from four different fields: finance, public relations, non profits, and health care.
The newest addition to the Summit is Klocke's presentation.
"We really wanted an expert from the Boston area to speak on the Boston economy, which we haven't had in the past," said Tanklefsky. "That's a major addition to the event this year. We added that component which we though was important."
Tanklefsky also emphasized the importance of students being able to brand themselves as they enter the post-graduate world.
The panel is "a good cross-section of employers," he said. "Sometimes they have different perspectives, but other times they'll agree." Most of the attributes they're looking for in candidates are relatively similar, he said.
To make the Summit more accessible to students, some of the seminars were scaled back from the previous two years, said Tanklefsky.
"We sensed if we could do one less [seminar], just to make sure it was a tighter event, it would keep students there," he said.
After the panels, attendees will also have the option of getting their resumes reviewed and ask any questions they may have.  Getting these revisions now makes for perfect timing come the Career Connections 2012 Full-Time Job Fair, taking place Wednesday, March 7 from 4 to 6 p.m. at the Holiday Inn. Over 40 employers are expected to be at the fair.
When asked for some basic advice, Tanklefsky responded, "It's perfectly normal to feel angst at this time of year with graduation looming.
"I think, most importantly, seniors should give themselves the time they need to get their heads around their career goals and their job search. This is a good place to start."
The Senior Career Summit is happening this Friday, March 2, from 1 to 4 p.m. in 120 Tremont St., Room 295. Space is limited, so if students wish to participate they must RSVP to [email protected].
Tanklefsky also mentioned that career services remain open throughout graduates' careers. "It also goes to remind seniors that these services are available through all their working careers."
"As alumni, they have access to the office virtually free of charge" he said. "It's not unusual at all. The contract we have with them is for life."
Leave a Comment