Your Week: Arts, Clubs, Culture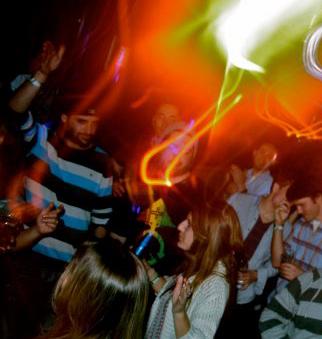 This week's top picks in nightlife, theater and art.
[Hangout, Wed.] Ever been to a TweetUp? Do you read The Dig? The weekly pub is hosting one of these meet-ups tonight at the Salty Pig, and it looks like a pizza party.
[Nightlife, Wed.] London-based DJ/producer Tim Green is joining Re:Set resident DJ D-Lux tonight at Phoenix Landing! Notorious in the realm of house and techno, he's remixed huge artists like Friendly Fires, Cassius, Booka Shade, M.A.N.D.Y, Tiefschwarz & Claude Von Stroke. 19+

[Art, Thurs.] Glenn D. Lowry, director at the Museum of Modern Art, New York, will be at the Isabella Stewart Gardner Museum talking about the nature of the "masterpiece" in modern art.

[Nightlife, Thurs.] Up-and-coming neofolk singer/songwriter Sharon Van Etten is coming to The Paradise from Brooklyn. 18+

[Nightlife, Thurs.] Felt Nightclub isn't typical club music every night – check out the Thursday FeltJazz Series. Or, WeNo is bringing UK legend Damian Lazarus to play on the second floor with Tamer Malki and Sergio Santos. 21+

[Nightlife, Thurs.] Let your status glow at Think Tank at GLOW Boston's version of a glowstick stoplight party. Glowkids, Fuse, Rivas and Grandma's Boy will be on the decks with electro, house and top 40 remixes and YRS gear will be giving away some swag. 18+

[Nightlife, Thurs.] Crook and Lenore welcome a third resident, Assembler, on board for the first time! Join them at Phoenix Landing for the best in drum and bass at Boston's longest-running dance night. 19+

[Theater, Thurs. + Fri.] Bohemian Bacchanalia is a wild modern circus featuring live music, aerialists, jugglers, dancers & burlesque performers from the Boston Circus Guild at Club Oberon.

[Theater, Fri.] The Boston Symphony Orchestra presents the All-Beethoven Program at Symphony Hall.
[Nightlife, Fri.] Randy Deshaies, George Vala, Audioprophecy, and John Barera have undergrounf house music nailed, and you can catch them Friday at VERITÆ at Loft 53. Thrown by the creators of ÆREA and Re:set, we all know this party will be good. 21+

[Nightlife, Fri.] Can you dance all night, as in a nine-hour party? White Rabbit presents PluRRed Vision, for which the UK's Organ Donords will headline with crushingly hard dance music. The lineup includes 10 additional DJs between RISE's two floors of multi-genre electronic dance music. 18+

[Nightlife, Fri.] Catering to Latin-American music, the Clandestino will cover nouveau-eighties, electropop, indie, vintage rock, and psychedelic cumbia at Tommy Doyle's on Harvard Square. 21+

[Nightlife, Fri.] The Sphere party has Dan Merlino, Beat Development, DIce Motion, and Bruno Lucas lined up to fill one floor of Om Lounge with deep and tech house and another with progressive, electro house and dubstep. 21+

[Dance, Sat.] Classical Lovers is composed of three romantic dances set to master composers, Beethoven, Schubert and Hayden, at Jose Mateo Ballet Theatre .

[Nightlife, Sat.] With Together Boston announcing top-notch headliners in waves, the festival has some warm-up parties lined up to keep us in place until our biggest week of electronic music rolls around in April. That said, French Fries and Bambounou are coming from Paris to play with local Banana Peel/Mmmmaven artists at Brighton Music Hall. 18+

[Nightlife, Sat.] As if there isn't already enough international talent coming to Boston this week, the Sonic Beating crew has Christer Andersson on with residents Keith Mattar and ANya for their psytrance night at Machine. 21+
Select events contributed by Kristin Baker, Suffolk PAO director.
Leave a Comment