CCE celebrates 25 years of service
Suffolk University's Center for Community Engagement celebrated its 25th anniversary in the Sargent Hall Keches Room April 13 with staff, students and alumni in attendance.
"It was so heartwarming to see so many students, staff, faculty, alumni and community partners here celebrating 25 years," said CCE Director Adam Westbrook. "One of the coolest things about this is that this was a celebration not just for the current CCE, but for community engagement across those 25 years, and it really felt that in the room."
Founded in 1997 as Suffolk's Organization for Uplifting Lives Through Service, the CCE has allowed the Suffolk community to engage in community service. Programs such as Service After Hours have allowed students to engage with the community on a local scale, while larger programs such as Alternative Spring Break and Alternative Winter Break have allowed students to perform community service throughout the nation and the world. 
Those in attendance at the CCE's anniversary celebration reflected on how many lives the CCE has impacted in 25 years. Suffolk President Marisa Kelly is one of many who view it as the CCE's greatest achievement.
"Their greatest accomplishment is in the form of the literally thousands of graduates who have gone out into the world and are making a difference in their communities because of the experience that they had here at Suffolk," Kelly said. "Those stories of 'CCE has literally changed my life' is not an exaggeration, and that is, I think, the single greatest accomplishment."
As part of the celebration, the CCE gave out the inaugural Commitment to Service Award, meant to recognize a student, alum or community partner. The award went to Suffolk alum Maura Sullivan, who graduated with her MBA in 2010. Sullivan works as the Senior Director of Legislative Affairs for the Arc of Massachusetts, working with state senators and representatives as an advocate for disability rights, specifically people with autism. 
"She is really a great example of what Suffolk really strives to do," said Westbrook. "She's working to make people's lives better. She's working within a marginalized community, she's working on legislating rights and she works at the intersection between governments and the nonprofit sector to really work towards social change. She's a worker, she's a fighter. It's not easy work for people to do this, but she's a person who is day in and day out really trying to make a difference."
Sullivan said the CCE has impacted her life because it has allowed her to work with people who are eager to serve the community.
"One of the greatest ways that it's impacted me is it really just put me mostly in touch with students who are really in a place where they are ready to jump in, to be more active in community service and to really understand the needs of communities beyond what they maybe have grown up with," said Sullivan.
The CCE has not only had a lasting impact on the lives of alumni, but also current students such as freshman Andrew Gomes. In his first year at Suffolk, Gomes has gotten involved as an ambassador for the CCE's Suffolk Votes program, which works to encourage students to register, vote and be educated in local elections. 
Gomes said one of the most important things that the CCE has taught him in his short time at Suffolk is "It's ok to be nervous, but be nervous with a purpose."
"A lot of these classrooms we went into, you're basically cold calling someone in the classroom to want to register to vote, and that takes a lot of courage from students, especially first-year students completely new to the college scene," Gomes said. "These people are much older than you sometimes, so you really had to put yourself out there because you know, you're doing it with good intentions in mind."
As Suffolk celebrates 25 years of service from the CCE, members of the community are looking forward to what the center can accomplish in the next 25 years. For some, it's individual programs, like the launching of Suffolk Impact, the CCE's new online platform for community engagement. Others are excited to see the CCE continue to change the lives of members of the community.
"It's more about what we can continue to grow. So I would like to see even more Alternative Spring Break trips, and more and more students, faculty and staff engagement with things like Suffolk Votes," Kelly said. "I would like us to be at the point where there's no student who graduates from Suffolk who hasn't in some way been touched by the work that CCE has done."
Leave a Comment
About the Contributor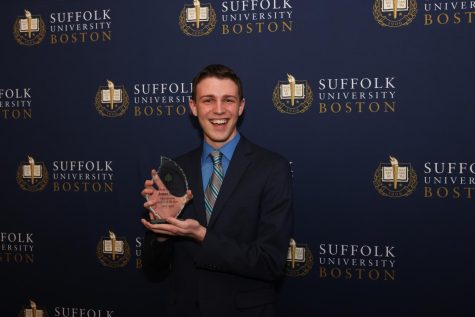 Jamie Taris, Managing Editor | he/him
Jamie is a senior broadcast journalism major and public relations minor from Pelham, New Hampshire. He has a deep passion for sports, especially hockey and football, and hopes to make his way into the sports media field after graduation. Outside of the Journal, Jamie is very involved with Suffolk's orientation department, and he's a member of Suffolk's Program Council. When he's not obsessing over the latest sports news, you can usually find Jamie hiking or camping in the White Mountains, or exploring the city with his friends.
Follow Jamie on Twitter @JamieTaris