SGA talks Rammython, hears remarks on TPUSA
Suffolk University's Student Government Association discussed the upcoming SGA Awards and Rammython and heard remarks concerning Suffolk's chapter of Turning Point USA, sexual assault awareness month and the Lebanese Red Cross at its March 30 meeting.
SGA President Angela El Jazzar reminded senators about the April 5 SGA Awards, where students and organizations across campus are set to be honored with various accolades for leadership.
Class of 2023 Senator Riya Kamani encouraged the senate to attend Rammython, an annual fundraiser for Boston Children's Hospital. At its event on March 31, students raised $6,500.
"We could not be more grateful for how yesterday's event went and for all the support from the Suffolk community! We hope you all had as much fun as we did!" said the organization in an Instagram post.
In open forum, Anthony Coviello, president of the Suffolk College Democrats and founder of the movement Students Against TPUSA, pushed for the senate and E-board to condemn the national organization of TPUSA and put pressure on the university "to look at the issue and acknowledge the problem."
"We are acknowledging and funding beliefs that are hateful, pure evil and inhuman. We are acknowledging and funding beliefs that affect a large portion of the student body," Coviello said.
Coviello said SGA's pressure on the university could help show that his cause extends beyond just himself.
"Your pressure on the university would help to show that it's not just me and my petition, but that a great portion of the student body agree that this is a damaging and hateful group in the university," he said.
SGA did not respond to comment on next steps for the organization regarding TPUSA.
Harry Murphy, president of Suffolk TPUSA and a contributor for The Suffolk Journal, said the continuous efforts of Students Against TPUSA are meant to stifle the free speech of members of the organization.
"[Students Against TPUSA] may think [it] can coerce our school into silencing us, but we only grow stronger," Murphy said. "I would like to thank him for his efforts, because he has indirectly grown our club, in terms of membership and traffic to our social media pages."
Commuter Senator-at-Large Emma Rose Nasr spoke to the senate about a fundraiser for the Lebanese Red Cross, which are the primary emergency responders in Lebanon. 
"Every single proceeding, every single donation that you make will go directly and personally to the Red Cross to help fundraise to help get anything that the Red Cross may need," Nasr said. 
Nasr added that the fundraiser was a personal cause, as much of her family still resides in Lebanon.
"I know a lot of my family still lives in Lebanon, my dad still lives in Lebanon. And the Red Cross is something that the full country relies on," Nasr said. "I would really appreciate it if you guys could give a little bit of just anything that you have."
El Jazzar echoed Nasr's sentiments, encouraging senators to spread the word about the fundraiser.
"[Lebanon is] my country too," said El Jazzar. "…if you are able to donate money in any way, shape, or form now or in the future, I just want to echo that Red Cross is a way to go."
Asma Akbar, a senator for the class of 2025 and chair of SGA's Dining Committee, reminded the senate that April was sexual assault awareness month. She added that events will be held throughout the month on campus, and encouraged all students to participate.
"It's very important to talk about [sexual assault awareness month events] and be aware of sexual assault, because it is a very real problem," said Akbar.
Akbar said SGA will be tabling to receive feedback and raise awareness over the dining committee's newest initiative: the Ram Box. Ram Boxes are a new option for students in Samia Dining Hall that will offer a variety of rotating cuisines, with the option of unlimited visits for an hour for an upcharge.
Several senators expressed concerns regarding dining points as the semester is approaching its end. 
Class of 2025 Senator Grace Kane, who was recently elected to SGA vice president for the upcoming year, inquired as to whether students have the option to donate their excess dining dollars. General Senator-at-Large Sara Tibbetts asked if students would have the option to donate their remaining points to the Suffolk CARES Pantry.
El Jazzar said SGA is looking to revive a program from last year in which students could transfer their excess dining dollars, but also encouraged senators to refer students to the CARES Pantry directly if they are experiencing food insecurity.
Leave a Comment
About the Writer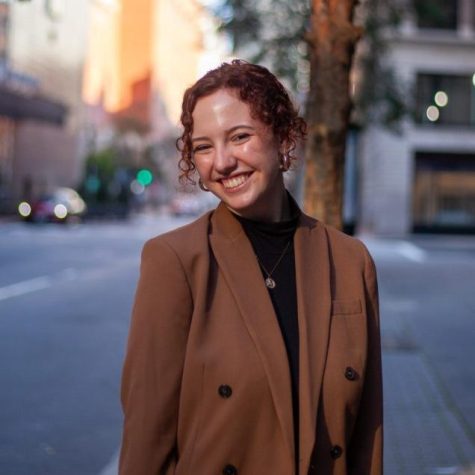 Shealagh Sullivan, Editor-in-Chief | she/her
Shealagh is a senior majoring in journalism with a minor in international relations from Ashby, Mass. She has previously worked as a co-op for the Boston Globe on the homepage desk and as an intern for GBH News and Boston Public Radio. In her spare time, she enjoys reading, finding a new favorite coffee spot and exploring Boston. She is a huge art lover and wants nothing more than to see the Van Gogh Museum in Amsterdam. After graduation, Shealagh hopes to be a political journalist in Washington D.C.
Follow Shealagh on Twitter @ShealaghS.