'Enola Holmes 2' brilliantly puts the Holmes siblings back on the case
"Tis she!" "Stranger Things" star Millie Bobby Brown marked her return as the witty and ingenious younger sister of Sherlock Holmes, seeking self-determination and triumph in this amusing sequel. 
After solving her first case and saving Viscount Tewkesbury (Louis Partridge) in the first film, the second movie follows a more grown-up and lonely Enola who is now facing obstacles to achieve her goal of opening her own detective agency. The movie is set in the 19th century where young women like the eccentric young detective should be anywhere but aiming for independence, and Enola's dreams are going down the drain.
However, everything changes when a little girl, played by Serrana Su-Ling, asks Enola to investigate the disappearance of her older sister, Sarah Chapman, played by Hannah Dodd. Like her famous detective brother, portrayed by Henry Cavill, Enola also has an uncontrollable curiosity about the unknown, so finding the missing girl becomes her second mystery to solve.  
The sequel was again directed by Harry Bradbeer, and Jack Thorne remained in charge of the script. Their work was once again superb and the old trick of making the protagonist interact directly with the camera creates a fun, mysterious and immersive atmosphere where the audience feels like detectives as well. 
Unlike its predecessor, "Enola Holmes 2" is not an adaptation of the books written by Nancy Springer. Enola's second case is inspired by London's Match Girls' Strike in 1888. Chapman is based on one of the historical figures that led a strike that forever improved women's work conditions. 
However, as to be expected in film, not everything was entirely historically accurate. Chapman never went missing and there were no dangerous love affairs (as far as we know).
Brown, the leading actress and producer, flawlessly portrayed Enola. Her timing for humor is impeccable and she is indeed a force of nature as the young sleuth. Brown has plenty of charisma, and just like in the original movie, she manages to thrive as the knowledgeable and sometimes reckless Enola. 
As stated in the first movie, the name Enola backward spells alone, and Enola's mother, Eudoria, played by Helena Bonham Carter, used to say, "You will do very well on your own, Enola." 
Brown's character can look after herself, but she blossoms around people who care for her. A moment of meaning in the sequel occurs when her mother finishes her words, saying, "but with others, you could be magnificent." 
By the end, she finds herself less lonesome, with her brother, Edith (Susan Wokoma), and Tewkesbury by her side. One of the many lessons from the film is that being alone doesn't necessarily need to mean being lonely. 
Known for roles such as DC's Superman and Geralt of Riveria in "The Witcher," Cavill sheds light on the emotional side of the infamous elder Holmes in this stirring sequel. He portrays a Sherlock who cares deeply for his sister and is willing to die and even kill for her. Many actors have interpreted the iconic character, but Cavill is the only one who truly depicts all the nuances of the enigmatic detective.
 Cavill and Brown share many more scenes than they did in the first movie. They go from playing off each other to fighting together against evil forces. Their scenes together are the most interesting to watch, as they naturally have a brother-sister energy, on and offscreen.   
"Enola Holmes 2" is a powerful movie, a sequel that may be considered better than the original. Brown's Enola is an utter delight whether she's beating law enforcement, teaching her romantic interest how to fight or learning how to dance in a bathroom. The detective Enola will surely return for a third movie, and you should write that down because you won't want to wait to see what she will unravel next. 
"Enola Holmes 2" is streaming only on Netflix.
Follow Elise on Twitter @elisefacoelho.
View Comments(1)
About the Contributor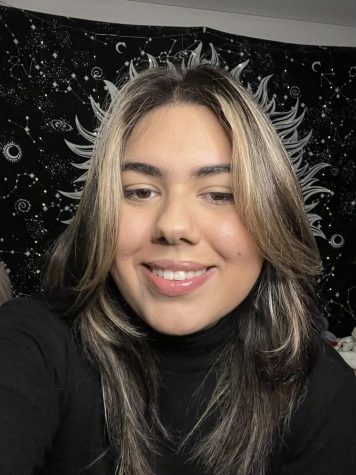 Elise Coelho, Staff Writer | she/her
Elise is a sophomore from São Paulo, Brazil. She is majoring in philosophy with a minor in journalism. She loves to read, write, listen to music and take pictures. Her favorite band is Maneskin, and most of the time you can find her at a theater watching a musical. After graduation she plans to become an author and share her stories with the world.